Today I will review MSI H310m pro-vh plus. Msi is a decent brand for products like motherboard and graphics card.
There is an amazing motherboard available from MSI Known as MSI h310m pro-vh plus.
This motherboard Supports only 9th generation and 8th Generation Intel processors. This doesn't support Intel 10 generation processor that is better than 9 generation processor.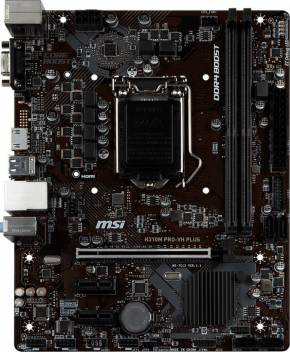 Then you should not check out this motherboard. But if you want to purchase i3 9100f with this motherboard then this motherboard will be a great option for you.
Even if you want it will support the i9 9th generation processor which is more then enough for 4k gaming with an RTX 3000 series graphics card.
But still the newer you purchase better it would be.
Specification of Msi h310m pro-vh motherboard
Supports LGA 1151 socket
Two ddr4 Ram slots
Maximum 32Gb 2666 Mhz supported
PCIe 3.0 slot available
Form factor: m-ATX
USB 3.1 port and all required ports are available
Compatability of Msi h310m pro-vh motherboard
This motherboard would be the best for being used in the gaming pc build under 50000.
Supported processor to this motherboard
As per the processor, it supports the maximum Intel core i9, i7, i5, i3, Pentium 9th, and 8th generation. You can play games on 4K resolution with a processor on this motherboard without any lag and stutter.
This motherboard would be the best for i3 9100f processor or 8100 processor. I3 9100f can handle games at 1080p resolution without any lag or stutter.
Supported Graphics card to this motherboard
As per the graphics card, this motherboard supports any graphics card which is based on PCIe 3.0. The maximum RTX 2060 super graphics card will be supported properly in this motherboard.
Even you can do 8k gaming From this graphics card but still if you don't have the budget to buy this graphic card.
Then some budget options like RTX 2060 or GTX 1660 would work pretty well on this motherboard.
Supported RAM for the motherboard
As to the RAM is motherboard sports a maximum 32GB Ram which is enough for 4K gaming. but one thing should be kept in mind that this motherboard doesn't support the 3200 Mhz Ram variant.
This motherboard supports a maximum Ram frequency of 2666 Mhz. You can play games on 4k settings even on ultra there would a non-noticeable difference from RAM with 3200 Mhz.
But on the other hand, if your doing video editing then you may notice a difference between the performance on a higher frequency RAM from a lower one.
Maximum storage available in this motherboard
You can combine as much storage you want on this motherboard. You can also use an SSD and hard disk together on this motherboard.
The only problem in this motherboard is that you don't get any M.2 slot for SSD. however that you connect the normal SSD that will give a similar performance in this motherboard.
The gaming performance of this motherboard.
As per the maximum performance you can expect from maximum gaming on 2k settings with no lag and stutter.
But if you are going to play games on 2K settings. This motherboard comes in a budget range. if you want 82 you have an RGB effect then you can purchase other motherboards by adding some more cost.
As this motherboard supports maximum RTX 2060 super. Rtx 2060 super performs well on 2K gaming. You will get frame rates that will be more than 60 while playing games on high to Ultra settings.
Conclusion
This motherboard is great for budget gamers. However, high-end gaming is also possible with this motherboard.
For the i3 9100f and i5 8400 processor, this motherboard is the best option. On the other hand, it supports high-end graphics cards for high-end gaming.
So here's the review of H310M Pro-vh plus motherboard.
Now I want to hear from you. Do you like this motherboard or other options for Intel 9th generation motherboard.
Let us know by leaving the comment below.
Frequently Asked Questions (FAQ)
Does MSI H310M Pro-vh plus motherboard support WIFI?
In this motherboard you will not get any in-built WIFI options. But still you can use an external Wifi adapter on this motherboard easily.
Which processor is best for this motherboard?
Intel Core i3 9100f processor is great for this motherboard. But still, if you want something even better then Intel core i5 9400f will be an better option.
Does H310 support the 9th generation processor?
Yes, this motherboard supports 9th generation processors. Even you can use 8th generation processors with this motherboard.
Is Msi H310m is good for gaming?
This motherboard is a great option for budget users. But if you want even better performance then you can check