Best PC Build under 15000 In India 2023 (New Parts)
If you are on a tight budget but still want to play high-end games on 1080p resolution.
Then you need the Best PC build under 15000. Even the latest games are also playable on this PC build.
So Let's check the components being used in it.
Best PC Build under 15000
As per this PC build, you have to use an AMD AM4 motherboard and an Athlon CPU.
Why?
Because this processor has an integrated GPU. Even if you can add an external graphics card to the selected motherboard.
1. Processor – AMD Athlon 3000G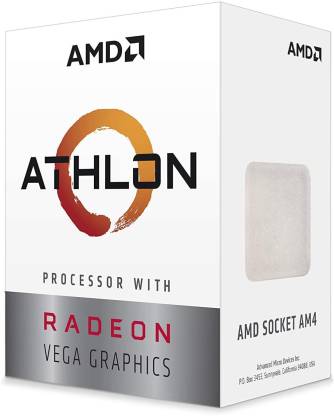 This is a dual-core processor. Also supports Hyperthreading which helps to get more performance from fewer cores.
However, this processor is good for basic 1080p gaming. But still, it also supports the latest AAA titles.
Only problem
If you want to play games on Ultra settings then you need a better processor.
For better performance, you can check the Best PC build under 20000.
Moreover, for casual gaming, it will be more than enough. Even old games like GTA 5 are playable on 1080p low settings with this processor.
Any Doubt? Comment Below
2. Cabinet – Circle Desire D1 (Best Option) Or Any Mid Tower Cabinet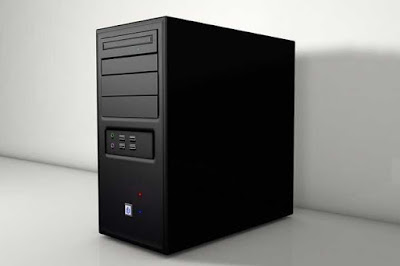 Due to a tight budget, you have to choose only the cheap cabinet option. Also, the Circle Desire D1 is a decent cabinet with a Power supply of 400 Watts. It is not great as the Corsair power supply. But it is not a cheap option.
We have used this power supply and cabinet for budget computers and we have no problem with them. However, it is a budget cabinet, not a fancy cabinet.
In total, you will get a good quality circle power supply costing ₹1000 and a good working cabinet in this combo.
If you want any other cabinet then you can look at the Zebronics cabinet for good for this purpose. Still, it is a mid-tower cabinet that can be available for under 1000 offline.
But still, don't go for a cheap power supply including a cabinet. Because a cheap power supply can harm your expensive PC components.
3. Motherboard – MSI A320M-A PRO MAX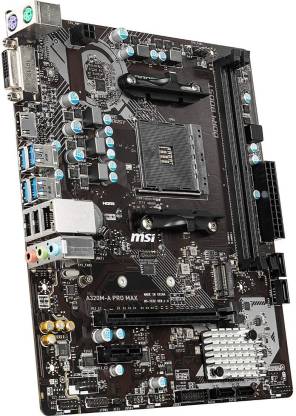 This is one of the best motherboards for this budget and processor. It can handle the selected processor easily. Even you can install some high-end processors on this motherboard.
But still, for high-end processors, the MSI H450 motherboard is better. Msi A320M motherboard also supports M.2 slot for SSDs.
It also supports up to 32Gb RAM which is more than enough for this budget.
However, in this PC build, only 4Gb RAM is included. Still, it is suggested to use 8GB ram from starting.
4. RAM – Crucial DDR4 2666 MHz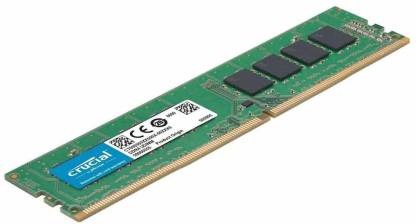 As per this budget, you will get an option of 4GB RAM only. However, you can increase RAM in the future as the selected motherboard supports up to 32Gb RAM.
4Gb RAM is more than enough for 720p gaming. For 1080p gaming, you need a minimum 8Gb RAM. Crucial 4 Gb DDR4 RAM is more than enough for your needs.
DDR4 RAM is much better compared with the normal DDR3 RAMS sticks.
5. Storage – Seagate 512Gb Hard disk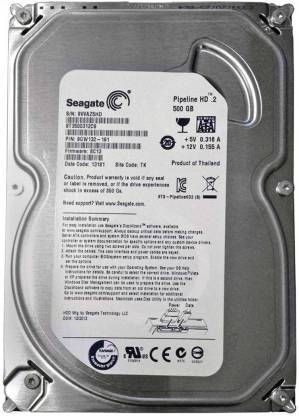 This Hard disk is more than enough for storing more than 200 Movies at once. Even you can store 20+ games with 15 Gb each on this hard disk.
But still, if you want better speed on your computer then SSD is a much better option.
However, it costs more but it also increases 5 times the speed as compared to a hard disk.
So if you want to use SSD on this PC build then Kingston 240 Gb SSD is a good option.
6. Power supply – CIRCLE CPH698 400 Watt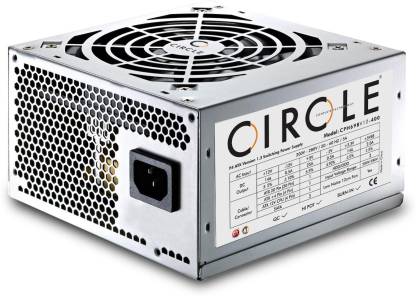 This PC doesn't require a high-end power supply. A simple 400-watt power supply will be more than enough for you.
Only, if you want to install a dedicated graphics card like RTX 3060 or RTX 3090 then you need a buy a new power supply minimum 750-watt power supply.
But still, don't go far for cheap options available in the market for budget users. They may harm your PC components in long run. This power supply should be your minimum choice. However, if you can invest money now in power supply then Antec v450 power supply is better.
But if you can't invest in a power supply then this will be enough for this PC build.
Moreover, For proper gaming always purchase power supplies from brands like Antec, Corsair, Cooler master, or Gigabyte.
Total Cost of this pc Build
The total cost of this PC build is around 14740. However, if spend some time online then you can even save more money.
| Name | Price |
| --- | --- |
| 1. Processor – Athlon 3000G | 6000 |
| 2. Motherboard – Msi A320m | 4890 |
| 3. Memory (DDR4 4 Gb) | 1148 |
| 4. Storage (500 Gb) | 1000 |
| 5. Power Supply and Cabinet Combo | 2500 |
| Total | 15538 |
The gaming performance of this PC build.
For gaming, you need a better graphics card. But still, it is not possible on this budget.
So you will get only VEGA 3 as GPU. It can handle high-end games on very low settings.
Also, it can handle some programming works without any issue. But still, if you want more performance then the check future upgrade of this PC build.
Working performance of this PC build
This PC build is powered by an AMD Athlon processor which has two cores and four threads. It gives better performance as compared with the old i5 or i3 3rd generation processors.
Also, you can use a fast ddr4 memory on this PC build. However, currently, you can add only a 4 GB memory stick. But in the future, you can add additional as per your requirement.
Lastly, for using Microsoft office or other tools like google sheets, google docs. You will not face any problems. This PC will give a smooth performance. However, with the android studio or video editing tools, your work will be slower but possible.
Upgrade option of this PC build
If you want to get more performance from this PC build you have to invest money in an External graphics card.
So if you have spent on the best graphics card under 10000 then you can expect a 50 fps gaming experience from this PC build. But still, you also have to invest in a good power supply for better gaming performance.
The best part
If you want the 100+ fps from this pc build then you just need to change the processor's current processor and add a new external graphics card with a power supply. It will cost you only 12 to 17 (After selling the current processor).
After that, you will get 100+ fps on 1080p High settings.
Conclusion
This PC build is only for budget users. Someone who wants to Build a pc build for a price of more than 50000 can ignore this PC build.
But still, it is a good option for budget users. Also, it gives you a great upgrade option for the future.
So here's the Best PC build under 15000.
Now I want to hear from you. Do you like the components being used in this PC build?
Let us know by leaving a comment below.