Best Gaming pc build under 40000 in 2021 (1080p gaming)
If your budget is under 40000 or somewhere around and you want to build a pc then you can check this article. It will give full information about what you should include and what not for this budget.
After you have to build a pc with the components are given below you can play games on 1080p high settings with any lag or stutter.
So let's check the components used in this pc build.
Best gaming pc build under 40000
For gaming in this budget, you should buy a better graphics card as compared to the processor. However, it is not suggested to pair a processor less than an i3 10100f processor.
1. Processor: Intel Core i3 10100f
In this budget, i3 10100f is a quad-core processor with 8 threads. These will be enough playing games on 1080p and some higher resolutions.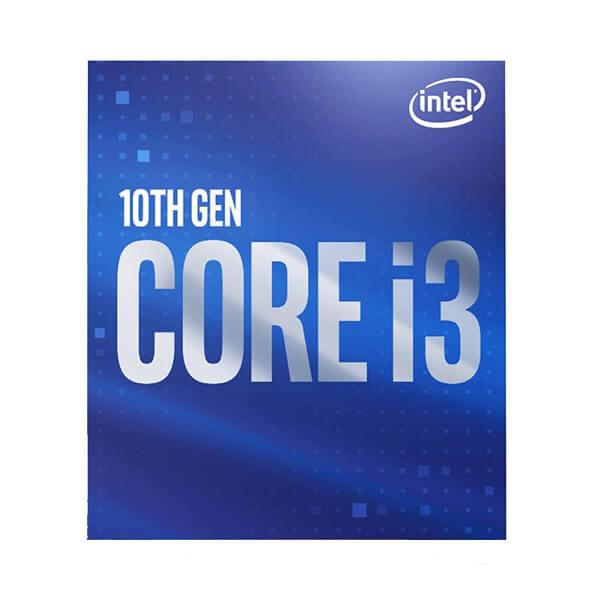 Specifications of i3 10100f
| | |
| --- | --- |
| Cores | 4 |
| Threads | 8 |
| Base clock | 3.6 GHz |
| Boost Clock | 4.3 GHz |
| Cache memory | 6MB intel smart cache |
| TDP | 65W |
| Max Ram Frequency | 2666 MHz |
| Socket Supported | FCLGA1200 |
| IGPU | Not available (Discrete GPU required) |
Overview of this processor
As compared to i3 9100f, this processor is better in gaming and video editing. In these processors, you will not get any IGpu.
That means it compulsory to pair a graphics card with these processors to have a display on your monitor.
However, Intel also has an i3 10100 processor which has IGPU. But it will cost slightly more as compared to this version.
Still, if you want to wait for some new parts that are launching in the future then you can check our guide to save money and invest in the future at the end of this article.
2. Graphics card Options for this budget
The graphics card is the most important part of a gaming pc. So you should purchase a better graphics card if you want to play games.
In this budget, the best pair of graphics cards is Gtx 1650 or Gtx 1650 super. Both graphics cards are capable of 1080p resolution gaming.
Msi Geforce GTX 1650 4Gb graphics card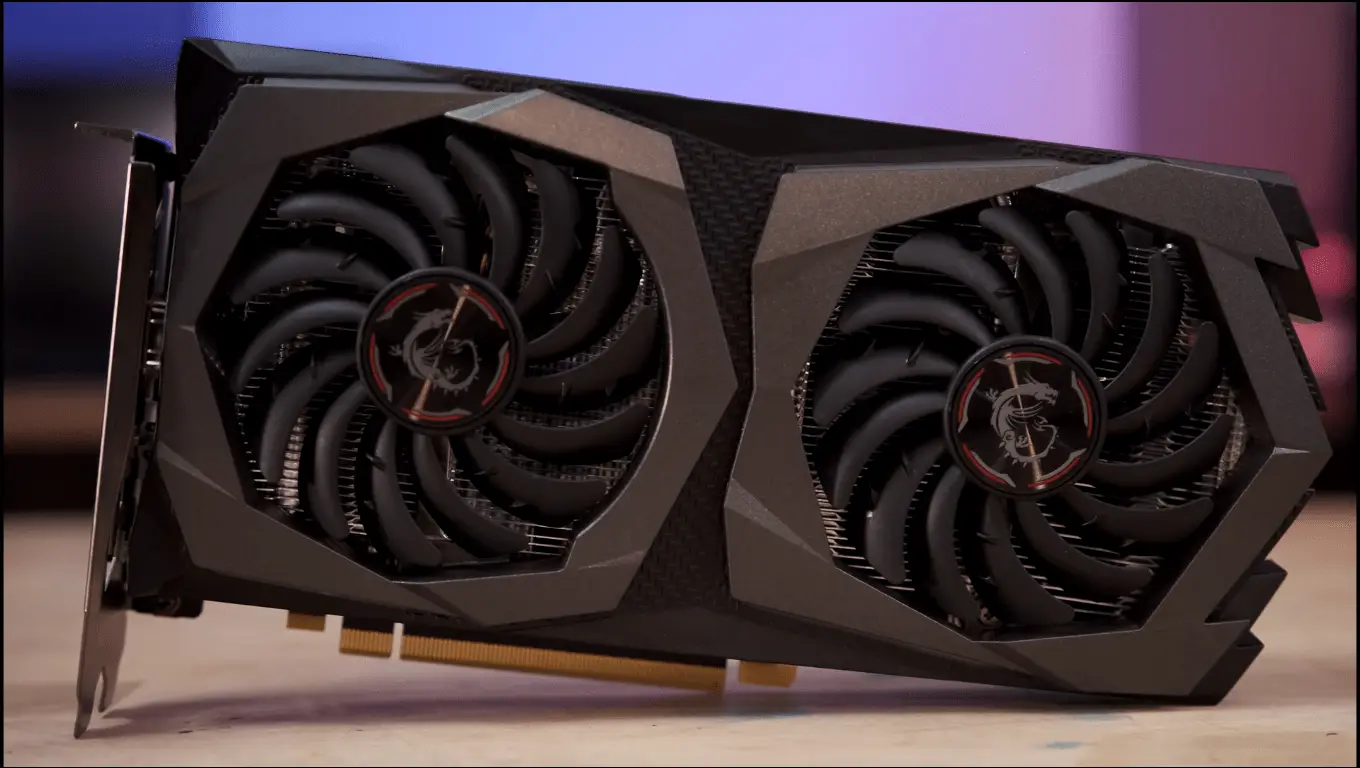 This graphics card from Nvidia is the latest in the budget segment. It gives good gaming performance at 1080p resolution.
In comparison with GTX 1050ti, this graphics card is a much better option. It gives slightly more gaming performance as compared with GTX 1060 6Gb.
In this graphics card, you will also get an option of GDDR6 VRAM. It will be better as compared with GDDR5.
For this budget, it will be the best option. But if you can spend slightly more than GTX 1650 super will be better.
Zotac Geforce GTX 1650 super 4Gb graphics card
This Nvidia graphics card is faster than GTX 1650 both in performance and VRAM. If you can slightly more money on this pc build then this graphics card will be a better option for you.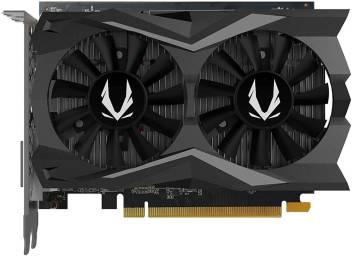 However, if you purchase the graphics card offline then it may possible that I may come within your budget.
This graphics card will give you just 5% lesser gaming performance as compared to the GTX 1660 graphics card.
Still, if you want a future proof PC build then you can check our save and invest Guide given before the conclusion.
Also check: Best graphics card for Ryzen 3 3300x
3. Motherboard: MSI H410m PRO-VH mATX
The motherboard is an important part of a PC build. It will give your processor and graphics card a platform to run the game.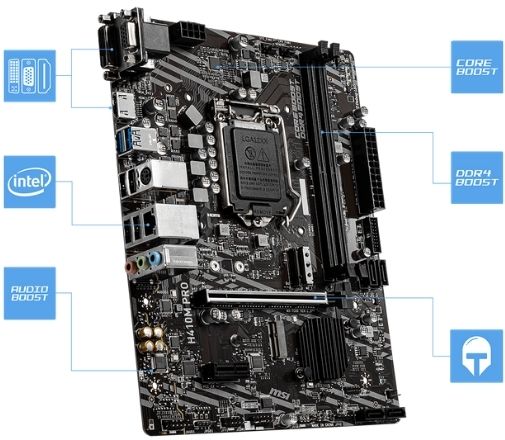 Specification of this motherboard
| | |
| --- | --- |
| RAM (Maximum) | 32 Gb 2666Mhz (O.C) |
| Storage | 2x m.2, 4x SATA |
| Display | HDMI, DVI |
| I/O | 8 USB ports |
| Network | Eternal |
| Audio | Realtek® ALC892/ALC897 Codec |
| PCIe x16 | 1 |
| Chipset | B410m |
Overview of this motherboard
If your motherboard doesn't support the processor then your pc will not boot up. As per the i3 10100f processor, it supports LGA 1200 socket.
Hence, MSI H410m is a good option in this budget. It also supports LGA 1200 socket similar to the i3 10th generation processor.
This motherboard only supports 32GB of RAM with 2933 MHz. However, there is the only support of 2666 Mhz RAM with the i3 10100f processor.
The best part!
You can install any graphics card on this motherboard. Even you can install the latest RTX 3080 or Rx 6900 graphics card on this motherboard.
4. RAM: HyperX Fury 8GB 2666 MHz
RAM is also an important part of playing games. In this build, 8Gb RAM is more than enough for 1080p gaming and basic video editing.

Important: If you're using the i3 10100f processor then 2666 Vram will be enough.
Why?
Because it doesn't support a RAM with a frequency of more than 2666 MHz. So the best 8Gb RAM will be an option for this budget.
So you can check the HyperX Fury 8Gb RAM with 2666 MHz. However, there is also an option to increase the RAM as there are two RAM slots in the MSI H410m motherboard.
5. Storage: Kinston SSD 480Gb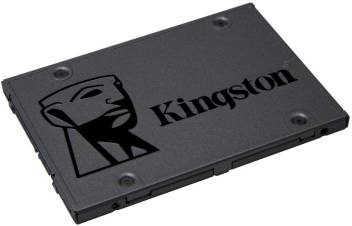 Kingston 480 Gb SSD is a good storage option for this pc build.
For Storage, SSD will a better option for you. Because it will reduce the booting time significantly as compared to the Harddisk.
However, the price of an SSD is much higher as compared to a Harddisk. So, if you just want to install more games and don't care about the booting time. Then Harddisk will be a better option for you.
Still, if you want your computer to boot fast and give you better file or game open and close speed then SSD is a great option for you.
6. Power Supply: Corsair VS500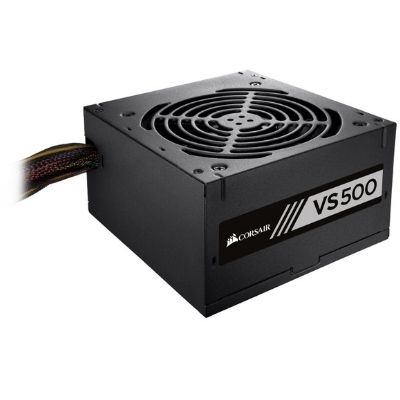 The power requirement of this pc build is not that much. So Corsair VS500 power supply will be enough.
This power supply has 85% operational efficiency. It helps to reduce heat and energy costs. You will get 80+ efficient power on this power supply. It means this power supply will convert 80% of the AC to DC.
7. Cabinet: Ant Esports ICE-200TG
For the cabinet, you can check out any mid-tower cabinet or full tower cabinet which sounds good to you. But still, there are some options available on amazon.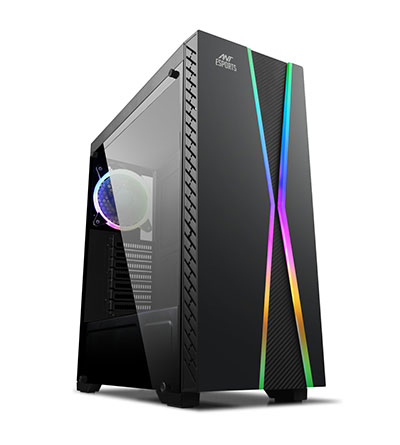 Like: Ant Esports ICE-200TG Mid Tower Gaming Cabinet.
This cabinet will be enough for ATX, Micro ATX, and Mini-ITX motherboards. With this cabinet, you will also get an RGB fan.
Gaming performance
If you do a similar PC build as mentioned. Then you can expect 60+ fps on 1080p resolution with Medium to High settings.
Still, there will be some frame drops if you want to play some high-end games like Shadow of the tomb raider on 1080p Ultra settings.
For the other games like GTA 5. You will get 80+ Fps on High settings. This pc build is also capable of video editing and programming.
For even better performance you can check our Guide Save and invest in the future.
Save and invest in the future
If you want to build a future proof PC. That means you can play upcoming games on higher resolution or better than a GTX 1650 graphics card.
So there are two options. The first option is that don't purchase the graphics card and save that money to buy the upcoming GTX 2650 graphics card.
This graphics card may give you better gaming performance than GTX 1660 super at the same price.
Note: If you're following the first method then purchase i3 10100 in the place of i3 10100f.
And the second option.
Spend money on the i5 10400 processor. Because this processor will just cost you 3 to 4 thousand extra and gives you enough power to run games on 2k as well as 4k resolution.
That same money can be rearranged until the GTX 2650 graphics card launches. After that in the future, it's on you when to purchase the graphics card.
However, you can invest your money in a graphics card like RTX 3060 without changing the processor and motherboard.
Let me know your views in the comment section.
Conclusion
If you build the above-mentioned pc then you can expect 1080p high-resolution gaming performance.
But if you want to buy as per the save and invest in the future then you may get 1440p gaming performance.
So here's the Complete Guide on Best gaming PC build under 40000.
Now I want to hear from you. Do you liked the article or you have some suggestions. Let me know in the comments below.