If you want a best graphics card under 5000 rupees for gaming on your new or old computer.
Then in this article, you will get the best options available in the market for that budget. You can expect decent 720p gaming performance from these graphics cards.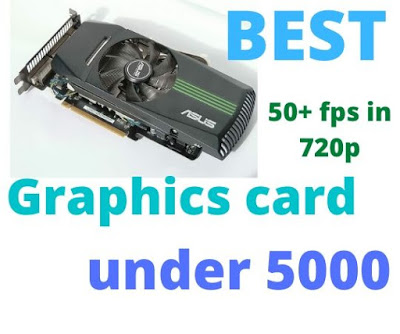 LIST OF TOP 5 BEST GRAPHIC CARD UNDER 5000 INDIA
You will get option of new and old graphics card.
Why?
Because the old graphics card will give you much better gaming performance in this budget. Even these graphics cards will give you 5 to 10 times better performance as compared to the GTX 730 graphics card.
However, you will also get some good and new graphics card option in this price range.
Some card also supports overclock functions which helps you to increase the performance of your card.
These are way better than the ddr3 graphics card.
AMD Radeon has based on GCN architecture for 4 generations. It is also based on 14nm technology.
This card comes with 512 stream cores with a clock speed of 1183 MHz/ 1100 MHz. The memory bandwidth of this graphics card is 112 GB/s. It gives the same almost the same performance as Nvidia GT 1030.
If you wanted to spend Rs. 3,000 for the best possible gaming performance then check out our list of Best Graphics card under 3K.
So Now question arises.
why I don't include GT 1030 on my list of which is a graphics card under 5000 rupees.
Because it gives better gaming performance as compared to GTX 1030. As GTX 1030 Gaming performance is slighlty lesser as compared to the GTX 750ti.
So those who just want to buy an AMD card can buy this and which like Nvidia gets the other given below.
Pros
Cons
1. Cool running
2. Future proof because new
3. No auxiliary power connector
4. Better E-sport performance
1. 2GB DDR5 VRAM in this budget
2. Slower than RX 460
This graphic is first on our list which is made by AMD. This is launched in 2019. This the AMD's graphics card to beat Nvidia's GTX 960.
But it gives a performance as GTX 950 2GB graphic card. This is also the best graphics card for gaming.
This supports DirectX 12. This graphic card help to play GTA V and some more games in 1080P at med to Medium setting with 50-60 Fps.
As this graphic card is also not available in new condition you have to buy an old one.
Pros
Cons
1. Best performance
2. Less power Consumption
3. Good overlocking
4. 4GB VRAM in this budget
1. Second-hand. But looks new.
2. No VGA port
3. Gigabyte GTX 660 2GB DDR5 graphics card (Old)
This is the best graphics card in the world for this budget. This card can maintain 60 fps in 720p ultra with games like PUBG, tomb raider, GTA, e.t.c. even you can play some games in 1080p on this budget.
But its price is slightly more than 3000 its price is Rs 3250 but if you buy it as a new user you will get a 3$ discount which makes it under 3000.
So if you are going to build or upgrade your pc this is the best option for you in the secondhand market. However, this card is best on this list as per his budget.
Pros
Cons
1. Good cooling
2. Factory overclocking
3. Two 70m fans
4. The single 6-pin power connector
1. No freebies.
2. No bios Switches.
3. Second-hand but looks like a new.
4. ASUS GTX 760 2GB graphics card (Old)
This graphic card is launched in 2012. This card is used by the budget gamers how to have a budget of 15000 to 20000.
But now this card price costs Rs 4300 and even I find this card selling for the price of Rs 3800.
This card supports the best gaming performance at this price. The benchmark of the graphic card is around 4900 which is good.
You can play some games like GTA V at 1080p at HIGH settings for 50-60 Fps. I think you don't expect before visiting my website.
But this is possible if combine just 8 GB DDR4 Ram with this then you can see the performance.
If you want to play games with good fps on 1080p you need the Best graphics card under 15000.
However, this card is only available in second-hand condition. But it seems like a new one.
Pros
Cons
1. Good pricing.
2. Best performance.
3. Quick Cooling but with a double fan.
4. Native full-size HDMI and DisplayPort.
5. Quiet performance
1. Slightly more power consumption.
2. Second-hand but looks like a new.
5. Asus GTX 950 2GB 128Bit Graphics card (old)
This is also a good graphics card for this budget. This is the only card that can help you to experience 720p gaming at ultra settings in this budget under 5000.
This graphics card comes with gddr5 memory. IT comes with two best cooling fans which provide you long-time smooth gameplay under 5000.
But with 768 CUDA cores. Its card has a base clock of 1024 and a boost clock of 1188.
This graphics card has a memory clock of 6.6 Gbps. It has memory bandwidth (Gb/sec) 112. It supports PCIe 3.0.
This is a used graphic card but still, you can get it from sites like OLX.in or some of the market for second-hand products. It will great for this budget. Even will give much better gaming performance.
However, this card can run with a 450 Watt power supply.
Pros
Cons
1. Best performance
2. stable performance
3. Quiet performance
4. Great power efficient
5. Overclockable
6.HDMI 2.0
1. Only 2 GB VRAM. but gives a good performance.
2. Fans do not turn off in idle.
3. The card is quite large But adjustable.
Although Prices don't remain the same please check the price before deciding.
However, we had included all cards which are under 5000 and the best as per their price.
Conclusion
If you want to purchase a new graphics card in this budget then you should buy Rx 550 graphics card.
But if you want more performance and you can second-hand graphics in new condition then you should buy GTX 760 or other from our list.
Here's my best graphics card under 5000.
Now I want to hear from you which graphics card from our list you liked the most.
Let me know by leaving a comment right now.