In today's pc are an important part of our life. But due to some reasons, everyone can not able to build pc which costs around 40-50K. So in today's article, I am going to discuss which is the best pc under 10000.
This is pc build you can expect some gaming and video editing performance. But this you get amazing performance is you are building for office use or some basic browsing.
Is that which is good for some 720p level gaming and the video editing at the small level, browsing, and other small works can be done easily in this pc under 10000.
You can build this pc easily but if you think it is difficult you can assemble it for some money. The following are the best components used in this pc under 10000.
Best components for a pc build under 10000
Intel Core 2 duo e8400 Processor
The processor is the most important part of any task that performed on your PC.
So we have taken intel core 2 duo e8400 that processor which costs more than 5000 when it launched and now its price is less 1000.
But this is the best processor as per the budget at a very cheap price. This graphics card comes with an amazing 3.00 GHz that is enough for this build.
However, if you got intel core 2 quad q9400 you can also buy it for this budget.
Specification
Core clock: 3.00 GHz
Cores: 2
Threads: 2
Bus speed: 1333 Mhz
TDP: 65W
Socket support: LGA 775
Zebronics G41 mother for this pc
The motherboard is also an important part of building a gaming pc under 10000.
So in this budget, we select the Zebronics G41 which supports DDR3 Ram up to 16GB this is an amazing motherboard with a PCIe 2.0 slot. Which required to play games in that budget.
The best part
This motherboard supports the GTX 750Ti graphics card. This graphics card will make you all requirements for gaming and video editing fulfilled.
But this graphics card costs you 2500. If you like to include it you can include it.
For more information check out the specification of this motherboard
Specification of this motherboard
Supports LGA 775 socket
Ram: up to 16GB supported
PCIe version: 2.0
With four USB port
one VGI port
GTX 750 ti Graphics card for gaming in this pc build
The graphics card is the most important part of a gaming PC. If your computer doesn't have a graphics card you can't able to play games with smooth fps.
The best graphics card for this build is GTX 750ti. This graphics card will make your PC run too fast.
The main thing
This graphics card is not available to buy at any online shop like AMAZON, FLIPKART. So you have to buy it from Aliexpress or Olx.in.
This graphics card is also good for an upgrade in used PC under 10000. Some new graphics cards under 15000.
That you can buy for future builds. The price of this around Rs 2500 in second-hand condition. You can check on olx, quikr. It is much better than a GT 710 2gb or GT 730 2gb graphics card.
Dolgix 4GB DDR3 1333MHz RAM
The main functioning of the ram is to make your system working fast. The name of the RAM Dolgix 4GB DDR3 1333MHz.

But in this due to computer price we are going to select 4 GB ddr3 ram which supports our motherboard.
You can extend in the future as per your requirements. The price of this RAM on AMAZON is: 1685
Specifications of this RAM
Memory Storage Capacity: 4 GB
RAM Size: DDR3
RAM speed: 1333Mhz
Circle 400 watt Power supply for this pc build
The power requirement for our build is very less. So we are selecting Circle 400 Watt SMPS. This will complete the power requirement of our build.
This power supply is a good power supply by a circle. It is good for mini pc under 10000.
As the price of this SMPS is very less. Its price is around Rs 800 on AMAZON.
Seagate 500 GB Hard disk
In this build, we aren't able to include 1tb hard disk because it's the price is around 3000.
But we are including Seagate 500 GB HHD. The SSD isn't possible in this budget.
I also build a gaming pc under 50000 with this cabinet. The price of this Harddisk on AMAZON is: 1700
Circle Desire D1 CABINET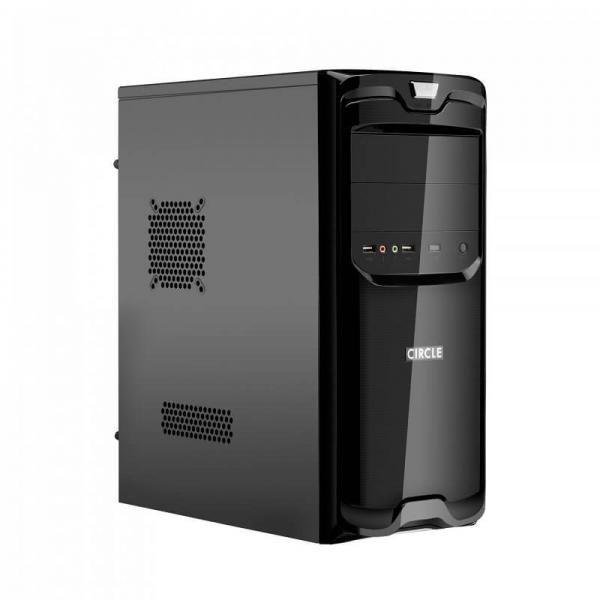 The best cabinet for this build is Circle Desire D1. This is an amazing cabinet with good looks as per the budget.
It has an additional 2 USB slots. This cabinet comes with SMPS which I selecting this build.
The price of this cabinet on AMAZON is: 2189
Summary And total price of PC under 10000
Name of component
Component contains
Price
Motherboard combo
Motherboard, CPU, RAM
Rs 3949
Cabinet
Combo
Cabinet,
Power supply
Rs 2149
Hard disk
Hard disk
Rs 1700
Graphics card
Graphics card
Rs 2500
The total cost of this pc build: Rs 10298
Performance of this PC build
You can play games and do video easily. And this is the best gaming PC build under 10000. The performance may be no similar as available in the video.
But there will be just some difference in the performance from PC build.
Conclusion
If you want to play games on 720p settings with good frame rates then this pc build will be good for you.
But if you are saying that it is hard to buy a GTX 750ti graphics card. Then you can check other GTX graphics cards like GTX 650ti or GTX 660.
So here's Best gaming PC build under 10000 for you.
Now I want to hear from you, do you liked my picks for this budget. Let me know your thoughts by leaving the comments below.