Gaming PC Under 10000 In India 2023 (i5 processor & SSD)
Today if you want to play games then you need a high-end computer or console. However, everyone can't afford an expensive PC.
Therefore, I have made a Gaming PC under 10000 and I can do every small and big game on this computer without any problem.
You can use this pc for online classes and normal usage like browsing as well without any issue.
So let's know about each component.
Best Components for this Gaming Pc Build under 10000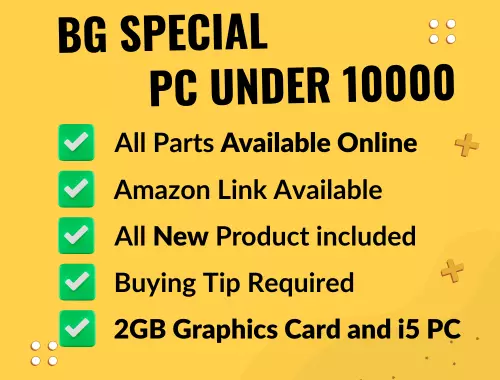 Because this is an affordable computer therefore you have to collect some parts from the offline part. Parts like Cabinet and power supply. The rest of the parts are easily available online.
So Here's the List of components Used.
Required Parts
The total cost of this pc build is under 10000.
Points To Consider Before Selecting Parts for PC Under 10000
It is a very affordable computer, therefore, don't have extreme expectations from it. But we are sure that this PC is the most powerful in this budget for gaming and working. Also, consider upcoming points.
Always consult your friend or a helper while building a PC yourself.
Don't buy every component together. If you are buying online then buy the motherboard combo first. So that you can easily use the components on the motherboard. Otherwise, you have to wait for the motherboard first.
We have provided every product link for you to purchase online but if you want to save more money buying from the local market will be a better option or you can go for MDcomputer as an alternative.
Note: If you want a better computer with the latest components then check pc under 15000.
However, if you're budget doesn't allow ₹15000 then you can consider the following best components for a pc under 10000.
1. Processor – Intel Core i5 3470 Quad Core Processor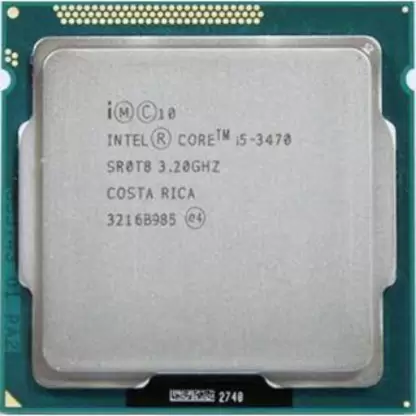 Specification of this processor
| | |
| --- | --- |
| Boost clock | 3.60 GHz |
| Base Clock | 3.20 GHz |
| Cores | 4 |
| Threads | 4 |
| Maximum RAM supported | 32 Gb |
| Maximum RAM frequency | 1333/1600 Mhz |
| TDP | 77W |
| Socket support | LGA 1155 |
Intel Core i3 3470 is a 3rd generation processor. It has 4 cores and 4 threats. It will be a much better CPU as compared to the Intel core i3 3240 which is a budget CPU.
Also, You can use this processor for basic work, some low-end video editing, and programming. It is a normal gaming processor. But you can use this processor for some old games as well.
As per our testing, you can expect 50 frames per second from this processor while playing GTA 5 on 1080p High settings with GTX 1050 ti.
Any Doubt? Comment Below
2. CABINET – Zebion Computer Case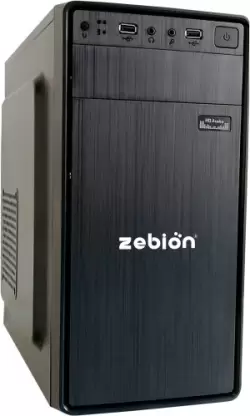 Zebion is a most affordable cabinet available online. We have selected it because this cabinet has all the required features for our pc build.
Also, you can select any mid tower cabinet for this pc build. Just make sure that you are getting an affordable cabinet without SMPS because a cheap SMPS can harm your pc components.
Therefore, your power supply must be from trusted brands like Corsair, Cooler Master, Deepcool and Antec. However, in budget build you can consider Circle and ant Esport as well.
For feature this cabinet has 2 USB ports and some audio input options.
Alternatively you can select Circle Desire D1 cabinet and power supply combo. I have also selected this cabinet for a computer under 50000.
The price of this cabinet on AMAZON is: Rs. 929 .
3. Power Supply – Ant Esports VS400L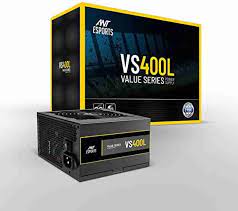 The power requirement for our build is not much. So we are selecting Ant Esports VS400L power supply. The Ant Esports is a good brand for power supply.
Also, this is a modular power supply which is enough for its pricing and the power requirements of our pc build. It is good for mini pc under 10000.
As the price of this SMPS is very less. Its price is around product price: Rs. 1,069 on AMAZON.
4. SSD Storage – WD Green 240 Gb SSD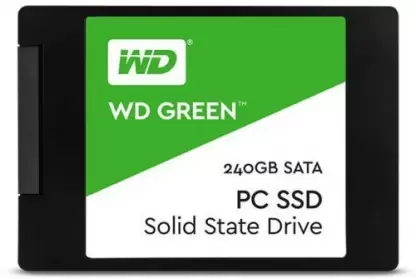 In this build, we aren't able to include a 1TB hard disk because its price is around 3000.
But we are including WD Geen 240 GB SSD. This is a budget-friendly SSD that is enough for your PC. Also, it performs much faster as compared to a normal hard disk.
The price of this SSD on AMAZON is: Rs. 1,343 .
5. Motherboard – Zebronics H61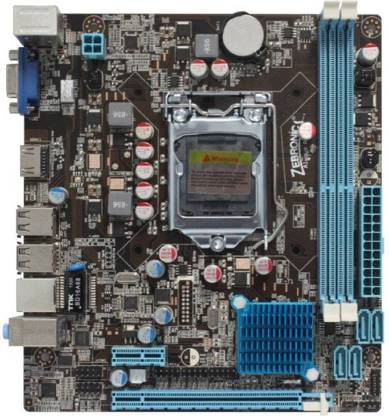 Specification of this motherboard
| | |
| --- | --- |
| Processor Capable | Intel 3rd and 2nd Generation |
| Socket Supported | LGA 1155 |
| Random Access Memory | Up to 16GB DDR3 1600 MHz |
| PCIe version | 2.0 x16 |
| USB Ports | 4 |
| Display Option | One VGA and One HDMI |
In this budget, you have an option of a Zebronics H61 motherboard. This motherboard will be completely capable of the selected processor.
You can add two DDR3 memory sticks to this motherboard. If you paired this motherboard with 8Gb 1600 Mhz RAM then it would be enough for you to play games on 1080p (Full HD resolution) medium settings.
The best part
On this motherboard, you can install a high-end graphics card like GTX 1050 or GTX 1650. Also, this motherboard is capable of graphics cards under 15000.
Also, if you pair this motherboard on your pc build it can fulfill every requirement of a student except some like gaming on 4k resolution.
Read full review of Zebronics H61 motherboard.
6. Graphics Card – Inno3D Gt 710 2Gb Graphics Card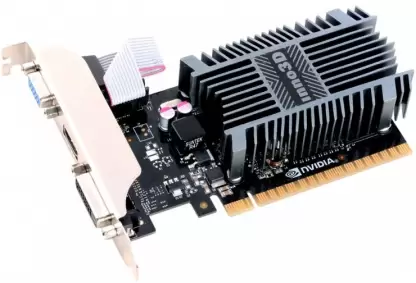 This is an entry-level graphics card on this budget. It has 2 Gb DDR3 video memory for gaming. It can handle big games like GTA 5 and more. Also, it can provide you look graphics while watching movies or videos.
But still, if possible try to get a DDR5 graphics card or consider checking the graphics card from the offline market.
7. Random Access Memory – Simmtronics 4GB DDR3 1600MHz
The main function of the ram is to make your system work fast. The name of the RAM Simmtronics 4 Gb ddr3 is 1600 MHz.

Specifications of this RAM
Memory Storage Capacity: 4 GB
RAM Size: DDR3
RAM speed: 1600Mhz
But due to the limited budget for this computer. We are going to select 4 GB ddr3 ram which supports perfectly with our motherboard.
You can extend it in the future as per your requirements. Also, you can install additional RAM on your computer because the motherboard has two RAM slots.
The Current price of this RAM is around ₹ 840.
Performance of this PC build
This is an affordable computer therefore you will get some limited options on this PC. It can handle every old game easily. For newly launched games, you have to use cloud gaming services like GeForce Now.
It performs much better as compared to the other dual-core or i3 PCs in this budget. In general, you will get more than double the performance as compared to a 2-year-old core 2 duo processor.
There will be no lag and stutter while using some basic software like Chrome and Microsoft Excel e.t.c.
As per the gaming performance, you can play some small but good games like GTA san address and GTA vice city easily. Also, some big games on very low settings.
Following is the expected Gaming performance from our selected graphics card Gt 710 2gb DDR3. Good for normal gaming.
Believe it or not, if you can purchase a second-hand graphics card then you can get much decent gaming performance from this PC. You can look for a Gt 1030 or Gtx 1050 for the best performance
This is a real test of the i5 4570 processor with gt 1030. Amazing Results!
Important: Never purchase GT 710 or GT 1030 graphics cards. They are not made for gaming just as display cards.
Top 5 games capable for this PC
The following are the good games that are playable on this PC with more than 30 frames per second. This means you will get a good playable experience on good graphics games.
GTA 5 (Very Low Settings)
Watch Dogs 1
Assassin's Creed 1 & 2
Call of duty Modern warfare.
Tomb Raider 1
If you can increase your budget
Firstly, if you want a better PC with new parts, not a 10-year-old processor then you can consider checking a PC under 15000. This PC is capable of giving much better performance. But you will get a much better future-proofing solution with that pc.
Otherwise, if you want to do gaming only then you can spend money on a 120 Gb SSD and spend the money on a GT 750 ti or GT 730 2 Gb graphics card. It will help you get decent performance in some games.
Conclusion
If you want to play games on 720p resolution with good frame rates then this pc build will be good for you.
But if you are saying that it is hard to buy a GTX 750ti graphics card. Then you can play games with no graphics card required. However, you can still do cloud gaming on this pc easily.
So here's the Best gaming PC build under 10000 for you.
Now I want to hear from you, do you like my picks for this budget pc build? Let me know your thoughts by leaving the comments below.
What is the cost of 1 Pc?
It depends on your requirement. The minimum possible cost of a 1 pc will be 10000 rupees. In the case of a high-end gaming PC then it will cost you a minimum of 40000.
What is the best PC under 10000?
A custom PC under 10000 will be the best solution for you. In the case of a prebuilt PC, you will get an old processor and cheap components with less value-for-money performance.