AMD Radeon Rx 7600 Performance and Price In India
Radeon RX 7600 is a newly launched graphics card and offers you 15 to 20% more performance as compared to RX 6600 graphics card.
Also, it is a good replacement in the budget for RTX 2060 and RTX 3060 graphics cards.
So let's check its price performance and a lot more!
The expected price of Rx 7600 in India
The expected price of RX 7600 is ₹27799 ($269 + GST). For pricing, the RX 7600 is a better and more affordable option. Also, the expected price of RTX 4060 is 31000 which makes them too competitive.
However, the most important thing for a graphics card is specification and gaming performance. So let's check it.
Rx 7600 Specs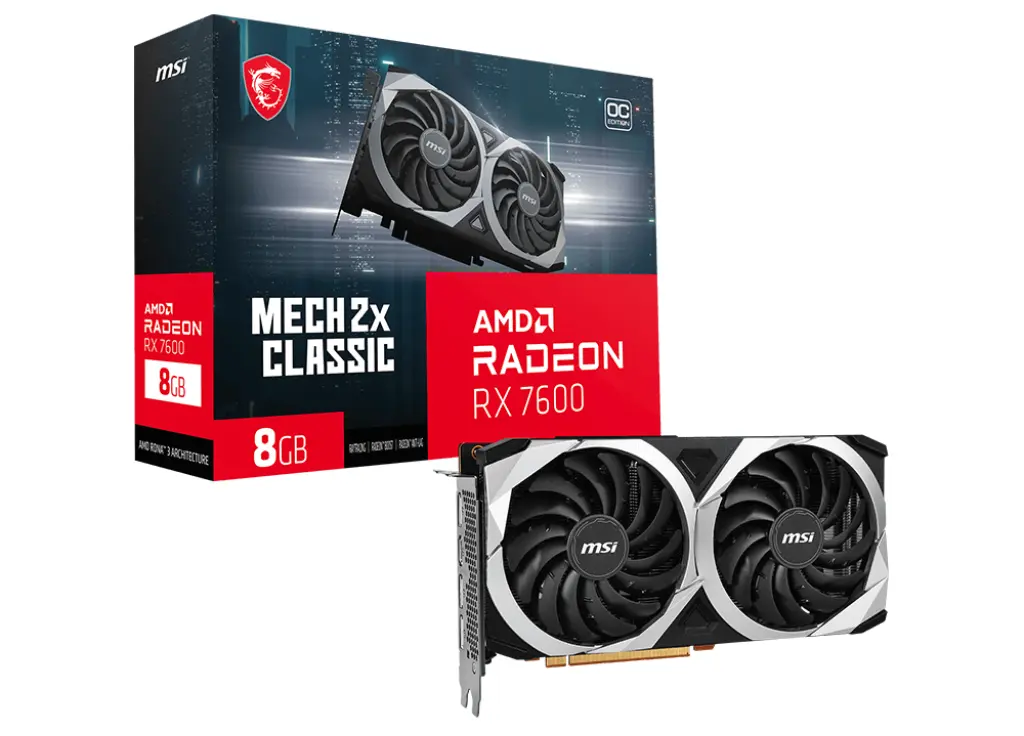 | | |
| --- | --- |
| Stream CORES | 2048 |
| Compute Units | 32 |
| Game Frequency | 2250 MHz |
| Boost Frequency | 2655 MHz |
| RAM | 8 GB |
| Memory speed | 18 Gbps |
| Recommended Power Supply | 550W |
| Graphics card power Requirement | 165W |
Rx 7600 Buy
If you want to buy the Rx 7600 then it is available on MDcompupters currently. Also, For a price comparison of all options, exact gaming performance, and comparison with RTX 4060 after launch you can bookmark this Article.
The best part!
You can get the Rx 7600 for a lower price as compared to Rx 6600. Currently, it is available on MDcomputers.
Rx 7600 Performance
For Radeon RX 7600, this graphics card will be faster as compared to Rx 6650 XT graphics card. This graphics card is the best possible option for gaming on 1080p resolution.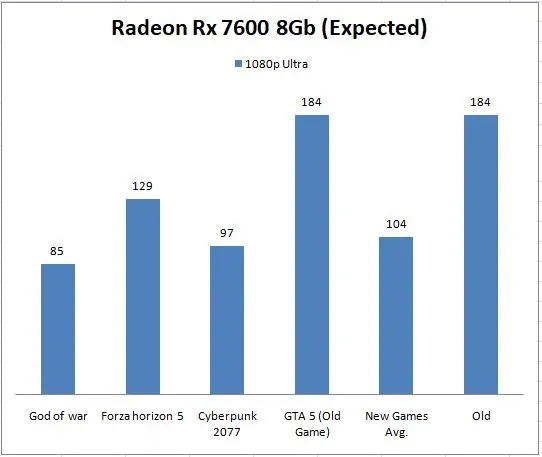 However, RTX 4060 can be a good option in competition with RX 7600 with better ray tracing performance in new games. In some games, the RTX 4060 will beat the Rx 7600 with good margins. But in some games, they will be performing similarly.
This graphics card is a perfect upgrade from Rx 5600 XT graphics card.
Benchmark
The gaming benchmark of Rx 7600 is 10687 it is significantly better as compared to Rx 6600 and RTX 3060. But the benchmark is not the only factor for buying a graphics card.
Power consumption and new technologies also play an important part. Let's check them.
New Technologies
RTX 4060 comes with new DLSS 3 and Ray tracing 3rd generation for better performance.
Rx 7600 comes with much better gaming performance as compared to RX 6600. But still, RDNA 3.0 performs slower than Nvidia Ada architecture in ray tracing.
Why!

Because RDNA 3.0 graphics cards like RX 7900 XTX perform slower as compared to RTX 4090 and RTX 4080 as well in ray tracing.
AV1 (Better Quality Streaming)
This graphics card comes with AV1 which is now available on OBS as well for better video streaming quality from this graphics card easily.
What we don't like
Not a big performance increase in RTX 4060 from RTX 3060. Not much better ray tracing performance in RX 7600 as compared to RTX 4060.
Also, power consumption is a big thing for the new GPUS. Let's talk a little bit about it.
Power consumption
Let's face this. Every gamer in the market having Rx 6600 or Rx 6650 has a maximum 500-watt power supply.
Because
Rx 6600 requires only 450 watts power supply. Even RX 6650 XT requires a 500 Watt power supply.
On the other hand, the Rx 7600 requires 550 watts as per specification. It can be difficult to upgrade from an old pc.
Yes!
It is not a big problem for new pc builders, they can buy a higher power supply for slightly more money.
But think about the old gamers they have to invest in a new power supply or spend time selling the old power supply to collect money for a new one.
Even a person holds 50 watts more than the expected power supply for RX 6600.
Radeon Rx 7600 Vs RTX 4060 Graphics Card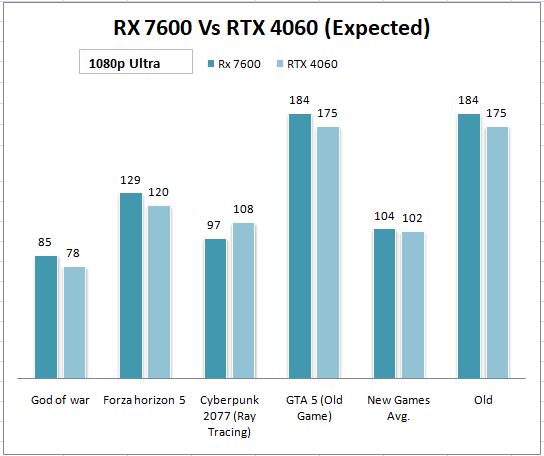 The provided gameplay frame rates are as per expectation because the drivers provided with the review unit are not capable of a better comparison. Wait for some days to compare them and the launch of RTX 4060 for a real picture of pricing and availability.
Rx 7600 Vs Rx 6600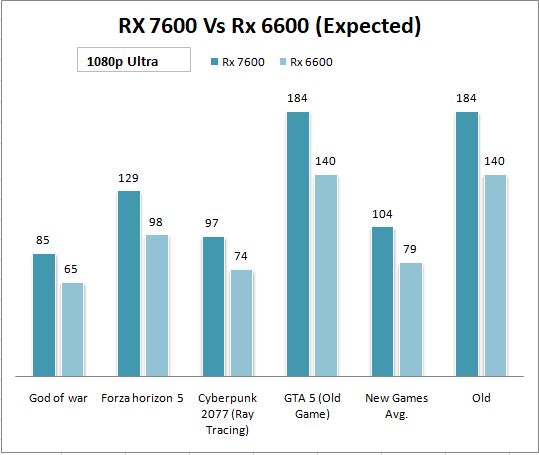 The Rx 7600 gives significant improvements from Rx 6600 because the current performance of the Rx 7600 is better as compared to Rx 6650 XT in all games.
Also, you will get more Ray tracing cores for better Ray tracing performance as well. Therefore, the Radeon Rx 7600 will be a much better value-for-money option for gaming as compared to Rx 6600 for budget gaming on 1080p resolution.
Conclusion (which graphics card you should purchase)
What should you select for gaming and video editing? If you want a better price-to-value option then RX 7600 is a better option without considering the performance of ray tracing and power supply cost for old games.
However, the benchmarks coming in some days would reflect a clear picture of these graphics cards.
But you can expect much better gaming performance from Rx 7600
Lastly, if you want the best gaming performance by paying slightly more money on 1080p resolution then you can consider the RTX 4060 graphics card.
We try to cover everything available in the leaks. If you think that we have missed something feel free to comment down below.