Best Graphics Card For i3 8100 in 2021 (Budget options)
This is a budget processor from Intel. But still, if you are pairing it with an old GTX 950 or GTX 1050 ti graphics card.
It will not will as much performance as expected from it. So you should check out some best graphics card options for the i3 8100 processor.
Let check the graphics card options
Best graphics card for i3 8100 processor.
From this processor, you can play games on 1080p and 2K resolution. But if you wear it with some low-quality graphics card then it will not give much performance.
This processor is a good option for a gaming pc build under 30000. Even you can play games on 1080p on medium to high settings with this processor.
1. Nvidia Geforce RTX 2060 6 Gb graphics card
This is a graphics card known for budget level gaming with ray tracing. However, you will not get that much FPS while playing with Ray tracing on 2k resolution.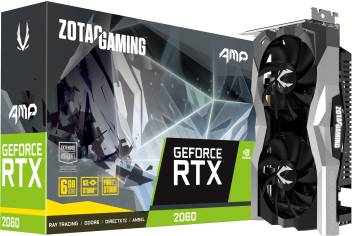 Specifications of RTX 2060
CUDA CORES: 1920
Bus clock: 1365
Boost clock: 1680
RAM: 6Gb
Memory speed: 14 Gbps
Maximum digital resolution: 7680×4320
Maximum GPU temperature: 88
Recommended System power: 500W
Graphics card power: 160W
Overview of RTX 2060
This graphics card has 6 GB VRAM. 6 GB VRAM is enough for playing games on 2K or 1080 resolution.
This graphics card is based on touring architecture. This is the latest graphics architecture available in the budget segment graphics cards.
With this graphics card, you can expect a 60fps gaming experience on 2K resolution. But still, if you want to play games on high settings when you have to check out RTX 2070 super.
This graphics card also has powerful AI graphics feature it makes ray tracing better than other normal cards.
It is also good for broadcasting games online. You will also support DirectX 12 in this Rtx 2060 graphics card.
| Pros | Cons |
| --- | --- |
| 1. Works proper with high-end software | 1. More power consumption |
| 2. Supports Ray Tracing | |
| 3. Good for 2k gaming | |
| 4. Supports Overclocking | |