GTA 5 is one of the most popular rockstar games. So today you will know the information required to install and play GTA 5.
Let's check
How much Space GB it requires to install the game?
If you want to install the updated version of GTA 5 then it will require almost 72 Gb of disk space to install properly.
However, this size may change due to the launch of new patch files. But still, if you have almost 100Gb space on one of your drives then it can be easily installed.
Even on the console, the game size is not similar. It is almost 50Gb without an update. The update may be more or than 25Gb. Then the total size will be 75Gb minimum on PS4.
Can Gt710 can run GTA 5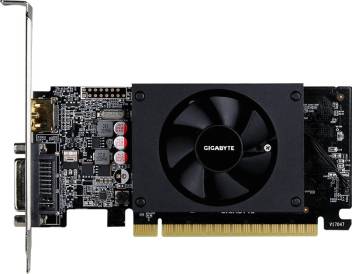 GTA 5 is a high-end graphics game. It requires a good graphics card for gaming. But still, as everyone can't able to afford the expensive graphics card.
So you can play GTA 5 with Gt710. But still, the games will not give more than playable frame rates while playing on 1080p resolution.
However, you can play GTA 5 on 720p resolution with medium to high settings. Also, the gaming experience is good as per the graphics card.
Check out the price of this graphics card on amazon
But if you want a better experience at that similar price you can check second-hand graphics cards like GTX 750 ti or GTX 660.
Also, check the Best graphics card under 10000.
How much RAM does it require to run properly?
As per the minimum specification of this game. You can play it with a minimum of 4GB ram. However, it is not mentioned which frequency is the minimum required for it.
But still, RAM with more than 2000 MHz frequency can run this game. There may be an issue if you use a ram with a frequency less than 2000 MHz.
As per the recommended specifications, you need an 8Gb ram for playing GTA 5 on 60+ frame rates.
Still, 8Gb RAM with 2666 Mhz will be a great option for playing it for 1080p resolution with good frame rates.
Which will be the best pc build for playing GTA 5 on 4k.
If you want to play GTA 5 on 4k resolutions then you need a minimum of RTX 3060ti or RTX 3070 graphics card.
Both will be more than enough to play these games on 60 frame rates. But still, if you want 100+ fps on this game. Also, wanted to plat CyberPunk 2077 then RTX 3080 will be a better option.
Conclusion
If you want to play GTA 5 properly on your computer you need just 75Gb disk space and a minimum of 4GB ram with a graphics card.
Even you can run GTA 5 on the GT710 graphics card. But only on low resolutions with playable frame rates.
So here's the answer to how much GB does GTA 5 have.
Now I want to hear from you. Do you like this article? Also, let me know if you have any questions or suggestions in the comments below.