Zebronics G41 Motherboard Review (Best Processors & GPU)
There are more than so many people in India whose still using LGA 775 socket motherboards. And everyone wants to play games with this CPU socket.
However, this has a very old CPU socket found even 7 years before. At that time this Zebronics G41 is the best budget motherboard for games.
But now this motherboard is not able to handle big games which are demanding nowadays.
Overview of this motherboard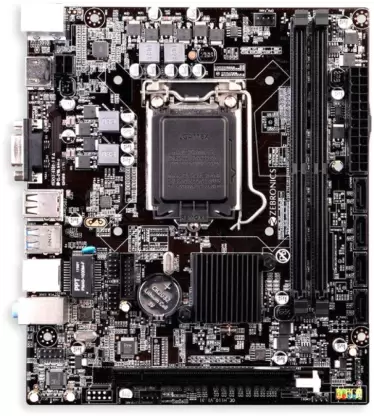 This is the best motherboard based on the LGA 775 socket. And the motherboard is best at this price from Zebronics.
[adinserter block="1″]
As in this article, you will come to know All about the Zebronics G41 motherboard review.
For gaming, this supports GTX 1050. This graphics card can handle the games like GTA V etc.
But think if you pair this motherboard with a weak processor it will bottleneck hardly the performance of the graphics seem to useless.
Even GTX 750 ti is an only graphics card that can able to give the best performance on this graphics card.
But to play games like GTA V you need to have a minimum of 8GB of RAM in this motherboard With 1066Mhz.
Specification of the motherboard.
Supports LGA 775 socket
Two RAM slots
PCIe 2.0
one PCI slot
form factor: Micro-ATX
Compatibility of Zebronics G41 motherboard
Maximum processor:- INTEL CORE 2 QUAD
Maximum GPU:- GTX 1050
Maximum RAM:- 8GB ddr3 1066MHz
The power supply supports all
Have all necessary ports
Supported processor for g41 motherboard
With the Zebronics g41 motherboard, all the processors based on LGA 775 socket will work.
So if you don't know which is the best and most affordable processor with 775 sockets then read the whole article.
Intel Core 2 Duo processors
Intel Core 2 duos are dual-core processors are based on LGA 775 socket. In these processors, you will get the maximum base clock of 3.16 GHz.
Now the question is which of the intel core 2 Duo processors are good and affordable.
1. Intel core 2 duos E8600
In this processor, the clock speed is 3.16 GHz. With this processor, you can do some basic work. The usual price of this processor is under 500 rupees But if you want something better for the g41 motherboard then check the next processor.
Intel Core 2 Quad processors
Intel Core 2 quads are a great performing processor as per the price. In these processors, you will get four cores. Even you will get 3.0 GHz speed on these processors.
But the processor which has a 3.0 GHz speed will cost you around 4000. This doesn't worth it for an old processor.
So you can check some of the best options discussed below for intel core 2 quad processors.
1. Intel Core 2 Quad q8400
This processor is working fine as per the price. It has a 2.66 GHz core clock. It will give much better performance in terms of multiple cores required for works like gaming and video editing.
Another option.
2. Intel Core 2 Quad q6600
This is one of the most popular processors is LGA 775 socket. With this processor, you will get a 2.33 GHz core clock. However, is lower as compared to the intel core to 2 Quad q8600. But still, in gaming, it will also give better performance as compared to the dual-core processors.
So if you want to check the processor the best buy links are already mentioned.
Supported graphics card
This motherboard is based on the PCIe x16. So you can install any graphics card on this motherboard.
Still
If you want to install a graphics card always try to check whether it will support the processor or not.
Means
It will not be worth it for you to install a high-end processor on this motherboard. Because it supports the maximum Intel core 2 quad Q9650. If you do so then the processor will bottleneck with the graphics card.
Even with this expensive processor, the maximum GPU supported is GTX 950 2Gb.
In case you are using the best processors discussed above then GTX 750 ti will be more than enough for this motherboard.
GTX 750ti will properly support this motherboard for gaming and video editing as well. With a graphics card, you can do some gaming on your budget pc build as well.
Want a better motherboard check Zebronics H61.
Gaming performance
This motherboard doesn't support high-level gaming. But even you can do average gaming on this motherboard.
This motherboard supports GTX 1050 4GB graphics. This graphics card is great for playing games on a budget and you will get good fps on 1080p resolution.
Zebronics G41 is a good option for budget games if you want to play games on 720p resolution only.
Personally tested games on this motherboard. Even with 4Gb ram. I have also uploaded some more on that channel.
Comparison of Zebronics G41 and G31
Zebronics g31 is also an option motherboard for LGA 775 socket users. But this motherboard only supports DDR2 RAM with a maximum of 4GB of RAM which is 2 times lesser than the G41 motherboard.
This motherboard doesn't have a PCI slot which G41 has. Both have PCIe 2.0 slots. Both support maximum Intel core 2 quad Q9650.
Other All about the Zebronics G41 motherboard discussed in the review.
Also Check: Zebronics G31 motherboard review
FAQ on Zebronics G41 motherboard
Can G41 motherboard support I3?
No, it doesn't support the i3 processor and the maximum processor supported is Intel Core 2 Quad Q9650. As i3 processor requires a minimum LGA 1156 to run properly.
Does G41 support ddr2?
No, it doesn't support DDR2, and it supports DDR3 random access memory with a maximum of 1066 MHz of speed. You can install 8 GB RAM in this motherboard which is the maximum in this motherboard.
Which processor is best for the g41 motherboard?
Intel Core 2 Quad Q9650 is the best processor for this motherboard. You can also pair GTX 750ti 2GB with it for the best performance from this motherboard.