BSNL Broadband Plans Review In India 2023 (Latest Plans)
If you want to use BSNL as your primary internet then you should check the Bsnl broadband plans review.
Because their plans are very affordable and enough for most users. Now, I am going to give you a detailed review of their broadband plans in India.
Let's check its review.
BSNL BROADBAND PLANS REVIEW
For a cheap and reliable option, BSNL is still a good option. But if you want more speed and data you have invested money in their newly launched fiber plans.
Before a detailed on its services, let's check the review of their plans and what plans they offers.
Currently, the BSNL is offering the most affordable internet plan in the market. Their one-time plan starts from ₹275 and normal plans start from ₹329.
Freedom 75-Fiber Plans (Available for Limited Time)
Also, their Freedom plans offer the most valuable deals as compared to other service providers. You will get 60 Mbps internet for 75 Days with almost unlimited data usage.
However, after 75 days, you will get charged according to the terms mentioned by them. For example, you will get charged monthly ₹599 + GST in the 60 Mbps plan.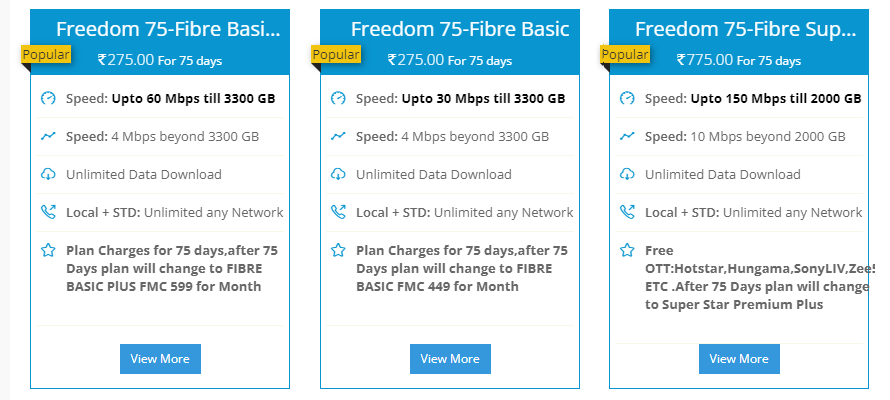 Basic and Affordable Fiber Plans From BSNL
These are newly launched plans from BSNL. They are currently offering the most affordable ₹329 which gives you an internet speed of 20 Mbps with unlimited Data usage.
The 20 Mbps plan is more than enough for most of the normal daily needs. However, if you want better internet speed you can consider a 40 Mbps plan as well.


BSNL high-speed internet plans
The internet speed in this plan will be high. Also, for most users, 150 Mbps internet speed is more than enough.
However, the 20 or 40 Mbps plan is more than enough for normal usage if you don't have a gaming console, 4k TV, or high-speed internet requirement.

Bsnl Very High-speed internet plans
These plans are only made for high-end data consumption with very high-speed internet. However, ₹1799 plan would be more than enough for you with 300 Mbps internet speed.
Moreover, for high data consumption, you can check other plans as well. Plan with ₹2799 is great with a FUP of 5 TB.


And as per the maximum speed from their broadband services, you will get 300 Mbps for a price starting from 1499 and data is also unlimited in this plan.
But if you want it more speed like 1gbps then you have to check out Jio Broadband plans which offer 1gbps speed with unlimited data.
Now, let's discuss some OTT subscriptions offered by BSNL.
OTT subscription
BSNL has some plans which give you access to the OTT subscription. The Plan Fiber Value OTT is a great solution for all the most popular OTT subscriptions like Hotstar, Zee5, and Sonyliv.
However, you will get not Netflix there. For ₹799 prices, the OTT subscription is enough. But still, you will get the same OTT subscriptions in every expensive plan. That means no additional OTT benefits on higher plans.
While in JioFiber you will get Netflix included with the plan of ₹1499 or more.
Bsnl is a popular broadband service provider in India. For some months Bsnl is offering not worth plans to their users. But now they have updated their plans due to more competition in the market.
Now Bsnl has improved its broadband services also. As per the plans Bsnl is offering the most affordable ADSL broadband plans in India.


Bsnl had launched new plans for its broadband user. BSNL now gives you 100 GB of data for a speed of 10 Mbps/s speed and 4 Mbps post internet speed for a price of just 299 per month. In 2023 this plan has 20 Mbps of speed.
In every plan, you will get an internet speed of 10 Mbps and the best plan from ADSL is the 200Gb CUL plan. In this plan, the speed is 10 Mbps with a FUP of 200 Gb and after 200 Gb the speed will be reduced to 4 Mbps.
But in their broadband plans, you will get an option of a maximum 10 Mbps speed which is low for downloading and streaming videos on a higher resolution.
For more speed, you have to check their newly launched Fiber plans.
Now let's check the review on BSNL broadband services.
Also, check the other broadband plans in Punjab.
BSNL broadband services review
As per the broadband services from BSNL. You will not get a great response from the online portal. For applying your connection quickly you have to visit the nearby Bsnl local exchange office.

This is a Speed test of the BSNL Broadband plan that costs just Rs 599 per month. Usually, It gives a speed of 60 Mbps or less from this connection.
If you want to install BSNL broadband services, it will be better to use offline installation mode compared to online.
As per the security, you have to pay 500 or the price of your plan whichever is higher. For example, if you have selected the cheapest plan, you must pay 500 as a security deposit.
But in the case of higher plans like if you have selected Rs 949 per month plans. Then you have to pay Rs 949 as a security deposit with the first bill.
For the installation of the connection, you have to pay extra 250 rupees. But this may be not applicable in your area.
Further, you may have to pay 90 rupees per month as the rental cost of an ONT modem or the 2000 cost of a router which allows you to connect an additional router for more coverage.
There is huge confusion about the cost of applying for BSNL broadband services. For better information about the cost of installation. You should check the nearby BSNL office for the exact cost in your area.
For more check: Best Unlimited Wifi Plans for Home
Conclusion
BSNL provides you with good affordable plans. But if you have to pay a lot more to apply for the connection, you can check other broadband providers like JIO or Airtel.
Here's my review of the BSNL broadband plans in India.
Let me know your thoughts on the BSNL broadband plan in the comment section.
If you like this review feel free to share it with your friends.