Connect Broadband Plans Full Review (Unlimited Data Plans)
The Internet now becoming more and more important. But if your internet is slow or takes more time it will not be worth it for you.
So today I will do a review of connect broadband services and plans. To check whether it is worth it for you or not.
Let's start with their plans.
Connect Fiber plans review
Connect broadband plans start from 499 rupees. In this plan, you will get unlimited data at a speed of 40 Mbps.
Do you think it would be enough for you?
Maybe if you are planning to stream video on Netflix, Youtube, and more platforms. It would be more than enough. Even you can watch movies at 4k resolution.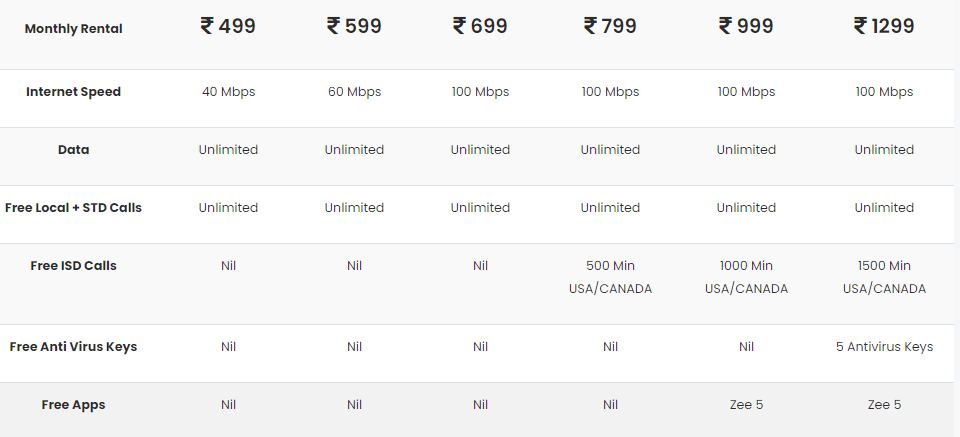 But still, it will not be enough for you. If you want to use it primarily for downloading games on your console or pc.
So what to do now?
You can opt for its better plans which will just cost Rs 699 per month and you can have enough high-speed unlimited internet with a speed of 100 Mbps.
Do they are offering really unlimited data?
No, You can say it is unlimited because they are providing 3300 Gb of data per month. However, if you have used this data limit then your internet speed will be reduced to 20 Mbps for high plans. For lower plans, they will provide 10 Mbps speed internet.
I think it would be more than enough for browsing our article and reading more in-depth product and service reviews.
Additional Benefits Offered By Connect Broadband Like OTT subscriptions.
Connect Broadband has started providing OTT subscriptions on their newly launched plans. However, their plans with OTT subscriptions start from Rs 666.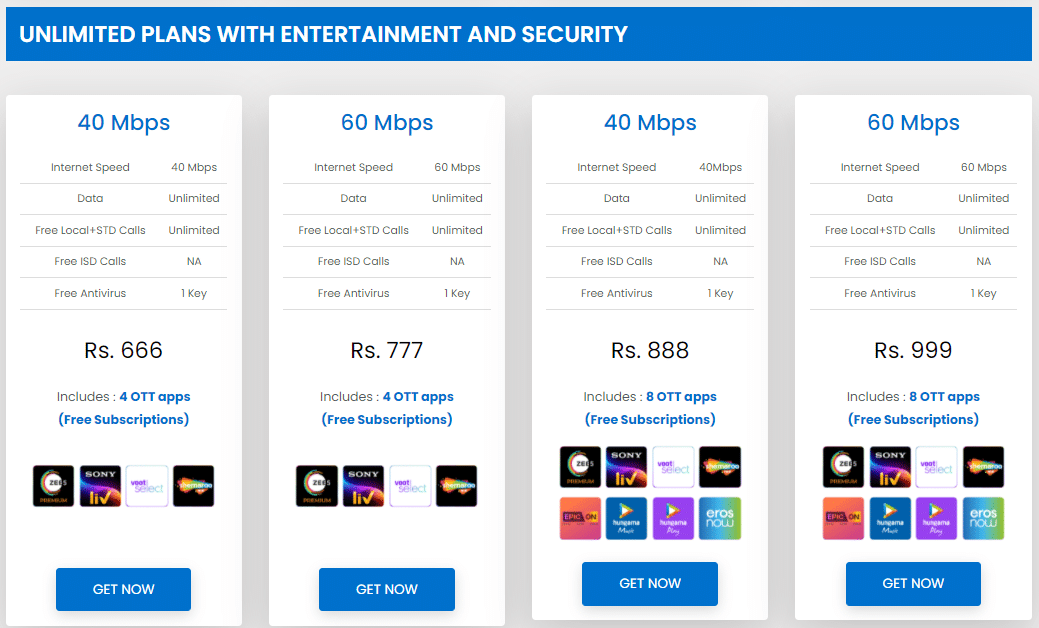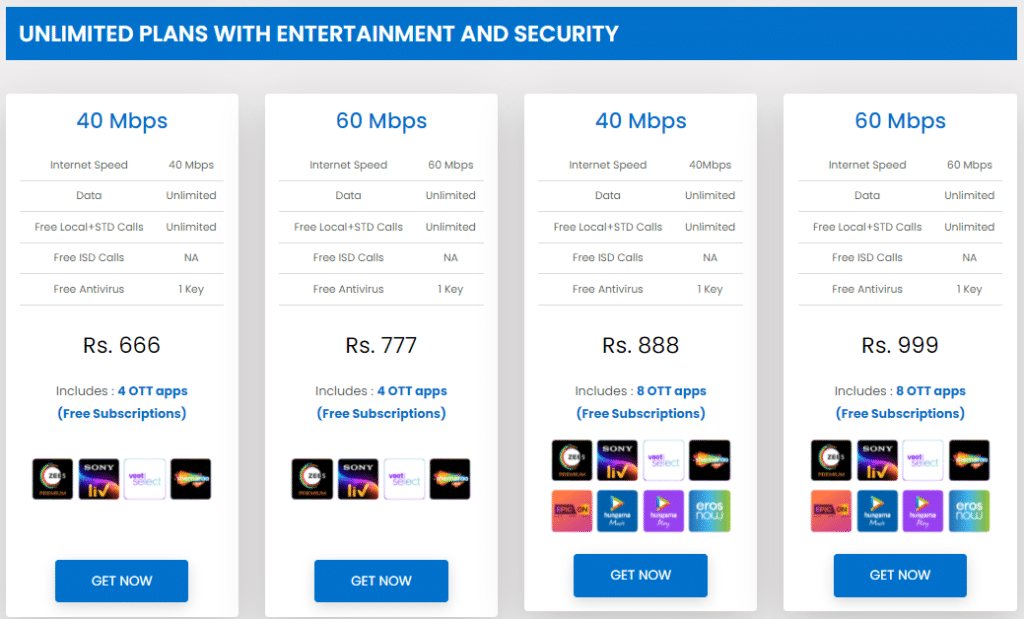 As per their first plan, you will get 4 OTT subscriptions Free with 40 Mbps unlimited internet Data. However, if you don't want OTT subscriptions then normal plans are better.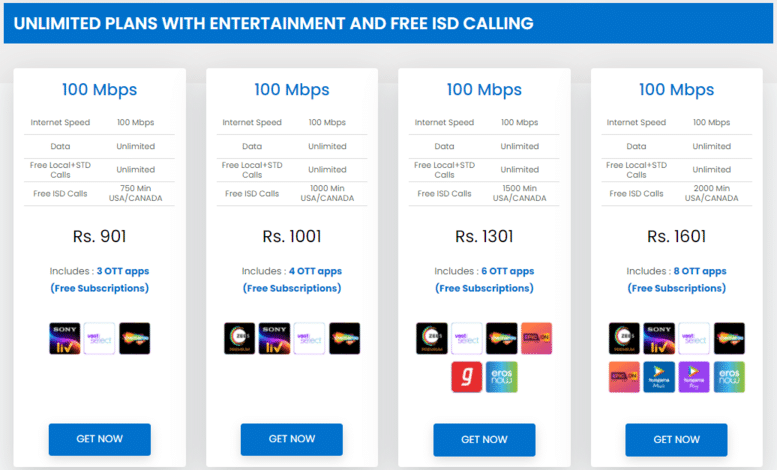 For a 100 Mbps plan and OTT subscriptions, you have to pay a minimum of Rs 901. Moreover, they are offering 8 OTT subscriptions in Rs 1601 plans with 100 Mbps internet speed.
Even you will get Some International Calling in these plans.
Comparing with other Broadband Providers.
The normal plans offered by Connect broadband are affordable. But Their plans with OTT subscriptions are expensive.
Normally, you will get 15 OTT subscriptions from JioFiber in Rs 999 plan. Even the internet speed is 150 Mbps with unlimited Data.
Further, you can use Jio Setup Box with that plan.
Bottom Line!
If you want OTT subscriptions then check other internet providers. But if you just want normal broadband service then Connect Broadband can be a good option.
Connect broadband plans (DSL plans)
In some cities, Fiber broadband services of connect broadband are not available. In that case, there is only one option for DSL plans.
As per DSL plans, you will get a maximum of 8 Mbps speed. 8 Mbps speed is too low. If you want better speed you can use internet services.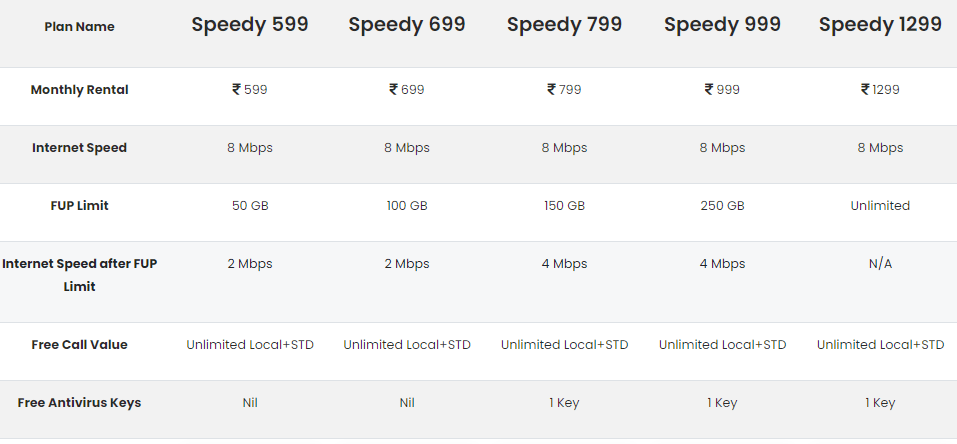 But still, if Connect Broadband is only available in your area then Rs 599 plan will be a good option for you.
In this plan, you will get 8 Mbps with 50 Gb FUP. After it, the internet speed will be reduced to 2 Mbps.
For normal browsing, this speed may be enough. But it may be slow if you want to watch videos on Youtube or other services.
Connect broadband services.
As per the services, you will get average internet service from Connect broadband. However, you may face issues with their DSL services. But Fiber services are good.
Sometimes they don't tend to return your security deposits. As per the reviews available on the internet.
After they sort out the issue and take the required steps for resolving those issues.
Also, for comparison with other options, you can check the best broadband plans in Punjab.
Installation Fees
The installation of their services is not free. It depends on your location.
Conclusion
Connect Broadband is a good service for the internet. It offers unlimited data plans. Some of their plans offer OTT subscriptions.
However, the plans with OTT subscriptions are expensive compared with other broadband providers in the market.
They offer Both ADSL and Fiber broadband plans. But Fiber broadband plans are much faster and less expensive.
So here is the guide on Connect Broadband plans review.
Now I want to hear from you about your experience from connect broadband plans. Let me know in the connections Below.