7 Best Internet Plans In India 2021 (Plans from Rs 399)
You will get JioFiber, Airtel, Bsnl, and ACT broadband providers in India. Each broadband provider has introduced its new plans.
After a lot of research and comparison on these broadband providers, I have made a list of the best internet plans for 2021.
Currently, Jio, Airtel, and BSNL provide unlimited wifi plans for homes with a price under 500 rupees.
So let's check more about their plans
7 Best Internet Plans in India
The following table is showing the comparison between the top 3 broadband plans.
| Internet Speed | JioFiber (Price) | Airtel Fiber (Price) | BSNL Broadband (Price) |
| --- | --- | --- | --- |
| 30 Mbps | 399 | Not providing | 449 |
| 40 Mbps | Not providing | 499 | Not providing |
| 100 Mbps | 699 | 799 | 799 |
| 150 Mbps | 999 | Not providing | Not providing |
| 200 Mbps | Not providing | 999 | 999 |
| 300 Mbps | 1499 | 1499 | 1499 |
| 1 Gbps | 3999 | 3999 | Not providing |
1. JioFiber (Unlimited Data starting from just Rs 399)
JioFiber is currently providing a trial of their services for one month. Also, you will get a speed of 150 Mbps in that trial period.
However, their internet plans start from only 399 rupees per month. The cost of their plans will be similar to that in every state of India.
The best part!
You can stream one 4k and three 1080p videos at the same time with 399 rupees per month plan.
They provide plans for almost every budget. You can consider the plans as per your requirements. However, if you want wifi for basic usage then 399 Rupees plans will be enough. But if want a free OTT subscription then you have to consider minimum Rs 999 plan.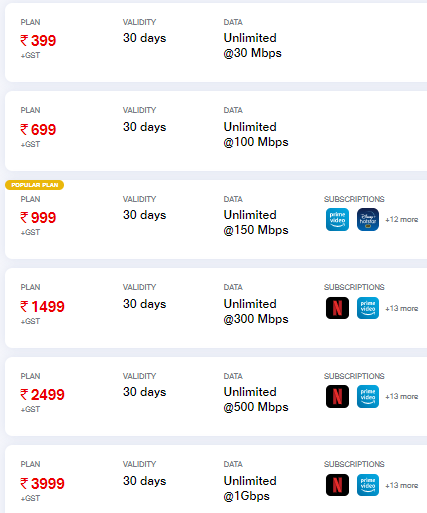 Also, You will get unlimited data usage in all their plans. But with one Commercial usage policy says that the term unlimited data means 3300Gb monthly. That mean's the internet speed after consumption of 3300Gb will be reduced to 2Mbps.
Moreover, you will get unlimited free calling with JioFiber plans. JioFiber provides 1Gbps speed in a 3999 per month plan. But you will get a maximum of 3300 Gb of data on this plan.
Free OTT subscription
OTT apps subscription is included in every plan of more than 999 rupees per month. A list of OTT is given below.
Amazon prime
Hotstar Disney VIP
ZEE5
JIO Cinema
JIO saveen
VOOT
ALT Balaji
Sony Liv
Hoichoi
ShemarooME
Lionsgate play
Sunnxt
Additional benefits with JIO fiber
Jio offers discounts on annual and half-yearly payments. As per the discount offered by Jio on long-term benefits. If you pay for 6 months then you will get 15 days free and if you pay annually then you will get an additional 30 days free usage benefit.
Free 30 days trial is also available in Jio plans. In this trial, you will get 150 Mbps speed with a security deposit of 1500 and if you want an OTT app you have to pay an additional 1000.
Comparison with JioFiber Old plans
Newly launched plans come with unlimited data consumption. Also, 399 plan is only available on the new plans. The minimum price to pay is 699 in old plans. However, the internet speed is similar between both old and new plans.
Comparison between Airtel and JIO fiber broadband plans
Both the broadband services are great as per their plans but Jio has a slight edge in low-cost plans. But in terms of all plans, both are competing very well.
2. AIRTEL Fibernet plans (starting from just Rs 449)
The Airtel Broadband Plans start from 499 rupees per month that make it budget-friendly. Also, you will get the latest Fiber services from Airtel broadband.

As their basic plan, you will get an amazing 40 Mbps speed with unlimited for a price of 499 per month. However, there is an installation cost of 1000 rupees in airtel but if you pay for three months then you will get free installation of their services.
Now they were offering unlimited data consumption in their plans. But with a condition that you will not able to use data more than 3333 Gb per month.
In case, you are willing to open the wifi signal for all😉.
You will also get a plan with a speed of 100 Mbps for Rs 799 per month. The 100 Mbps plan of JioFiber will cost you only Rs 699.
The best plan from Airtel is to cost you only Rs 999 at that price you will get 200 Mbps internet speed with unlimited data. If compared with JioFiber Rs 999 plan then the Airtel plan gives you 50 Mbps more data.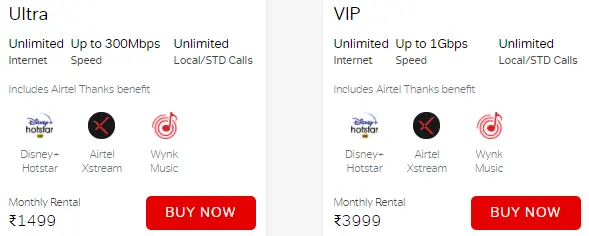 Moreover, if you want a 1 Gbps speed, you can check out an 'Airtel VIP plan' that will cost you just 3999 with some OTT subscriptions.
Additional benefits with airtel fibernet
For additional benefits, you will get discounts and some OTT subscriptions.
OTT Subscriptions
For an OTT subscription, you will get the following.
Airtel Xstream app
Amazon prime
Zee5
Discount options in airtel connection
For discounts, you have to for a period of more than a month. But you will not able to change the billing period in the future which means you have to pay constantly as you opt for the first time until you are using the connection.
If you are paying monthly then you will get the free installation of the connection. Also, If you are paying for six months you will get a discount of 7.5%.
But if you are paying yearly you will get a discount of 15 percent which is around 1.5 months free.
3. BSNL Broadband connection plans (starting from just Rs 299)
Bharat Sanchar Nigam Limited (BSNL) provides budget-friendly plans starting from Rs 299. Bsnl has introduced new fiber plans with amazing pricing.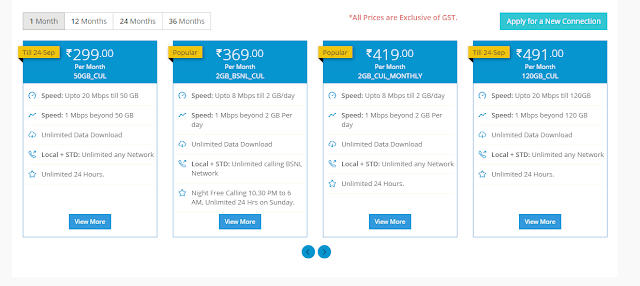 BSNL ADSL services are only available in some areas where you will not have any Fiber services from JioFiber and Airtel.
It's true that now the BSNL ADSL service is slightly expensive but they are providing the cheapest plan on its ADSL broadband plans. But if Fiber Services are available in your area then it will give you better speed and performance as compared to the ADSL services.
In this plan, you will good 20 Mbps speed with a FUP of 50 Gb. At this price, you won't able to get this type of speed and services from any other broadband providers.
Another plan from Bsnl for ADSL broadband in the budget is '120_CUL' this plan provides you 20 Mbps speed with 120 Gb per month after that FUP is exhausted you will get a speed of around 1 Mbps with unlimited FUP.

Bsnl has started its unlimited plans. Currently, everyone wants unlimited data plans. This is because JIO broadband has started giving unlimited data.
The first plan of BSNL offers you 30 Mbps internet speed with a FUP of 3300 GB which is almost unlimited. Even the plans costing more than Rupees 1500 will have a 4Tb FUP data limit.
However, Bsnl is providing 2 Mbps data if you have exhausted this FUP. You can use Bsnl Broadband for your online class and normal usage. Not great for downloading too big files because they offer a maximum speed of 300 Mbps.
From competition like JioFiber and Airtel, you will get a maximum of 1 Gbps internet speed.
For a full review of BSNL broadband services.
Check Best routers for BSNL Ftth plans
4. ACT Broadband
ACT Broadband is another service provider in India that provides plans for a price under 550. These plans are newly launched.
Currently, ACT broadband is providing unlimited data in every state except Bengaluru. Even in some states, they are providing 150 Mbps speed for just Rs 749.
However, their plans are slightly confusing because they have different plans for different areas. As compared with other broadband providers their plans are less expensive in some states.
Some areas so you can check whether their plans are cheap or not in your area, but in most of the areas, their plans are good.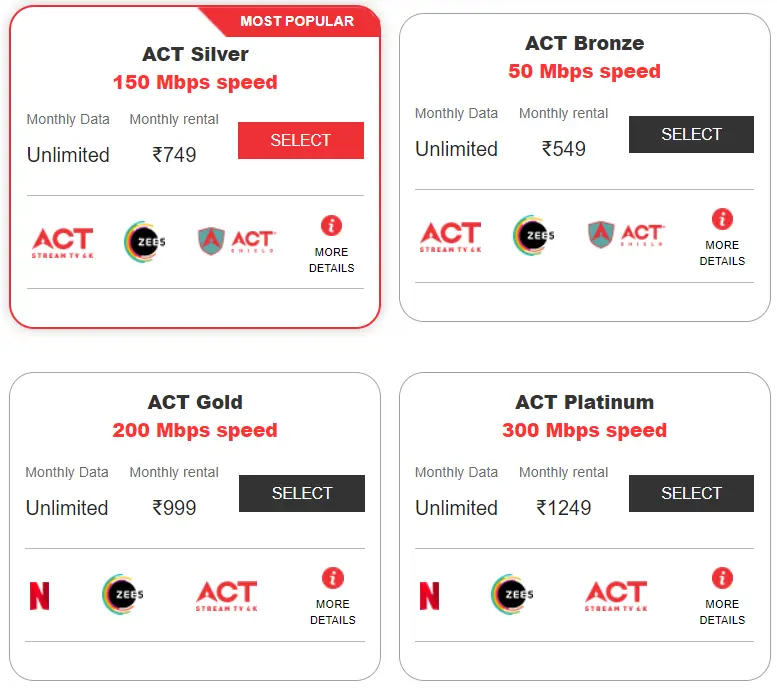 Their plans are available for most of the area of India. The cost of their first plans is 549. In this plan, you will get 40 Mbps internet speed with a 3300 Gb data limit.
You will get the same speed from other broadband providers for a price under 500. However, other plans of ACT broadband are offering 150 Mbps internet speed for Rs 749 only.
A similar internet speed is available for a price of more than Rs 900. Also, there is a data limit of 3300 Gb.
Also, you have to keep in mind that if you're buying this plan for six months, you will get a router free with it. The details are given in the offer section of Act broadband in this article.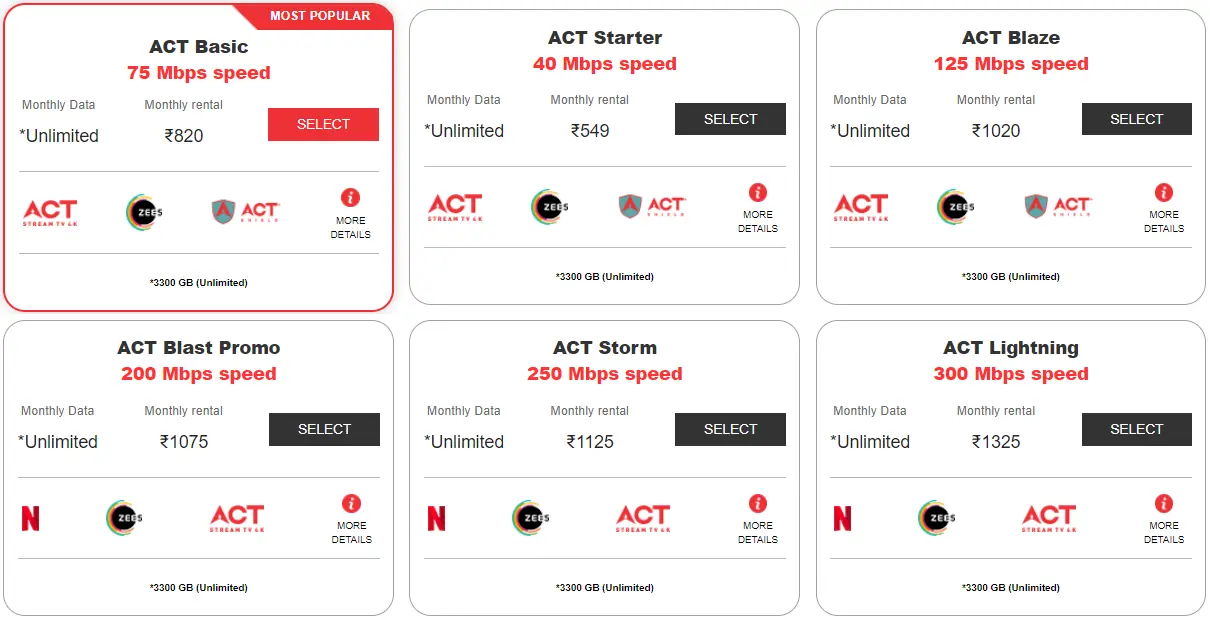 Things to consider!
The plans of ACT broadband are slightly expensive in Chennai. In these areas, you will get 100 Mbps plans are way expensive. But still, some plans like 'ACT lighting' offer a similar price and internet speed.
The best part!
You will get 1Gbps speed with a 5000Gb data limit for a price of 2999 rupees. Even you will get some of the offers mentioned below.
Act Broadband gives some amazing services if you are paying for annually, which means you will get a free router and 2 months free with the first plan which costs only 3294.

In this plan, you will get a speed of 40 Mbps with a FUP of 3300 GB and the speed beyond it would be 512 Kbps. The monthly average cost would be around 800 as usual.
Also, you will get an option of free wifi router in this offer. Moreover, if you pay for 12 months then you will get 2 months of free internet consumption.
The best Act Broadband annual rental plan is Act Diamond in this plan the cost would be around Rs 16188.
In this plan, you will get an internet speed of around 300mbps and unlimited data.
Additional Offers in this plan you will get a free router, 2 months free subscription to act Diamond plan, 350 cashback on Netflix per month, and the data you're getting in this plan is 20% more as compared to when you are paying monthly.
Also check the best router for act broadband.
5. Hathway connection
Hathway Broadband services are improved a lot during a few months their plans and prices were improved.
Now, they offer 100 MBPS speed for just 600 rupees per month without any data limit, and the speed after this data would be 3 MBPS which is quite impressive as compared to others.
Last year they were providing 100 Mbps speed, 1Tb data, and 3 Mbps speed after FUP in Rs 600 per month. But now you will get unlimited data in almost every Hathway Fiber plan.
The thing to be kept in mind is that if you want to buy their plans you have to pay for 3 months there is not an option for monthly payment.
The services are good they are available in most of the areas of India and they also provide you a router free to use so that you don't have to pay additional for that it.
But this router is given to you for the period when you are using their services.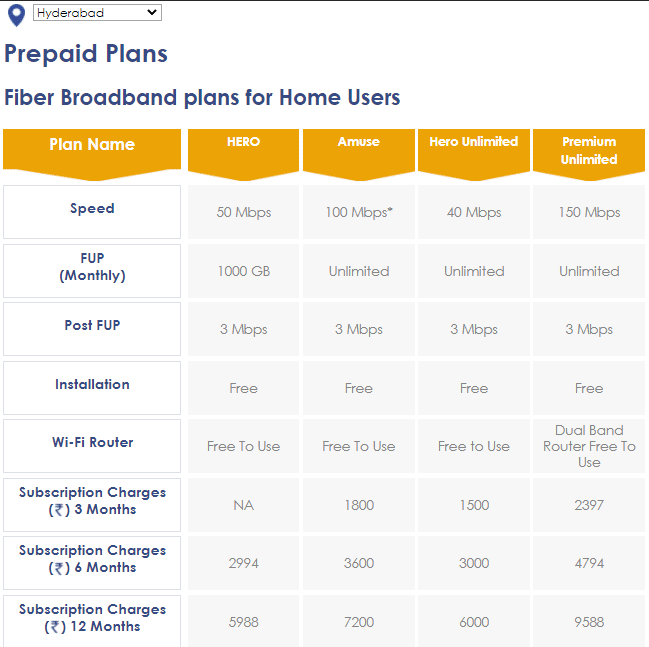 The best plan from their services is around 799 per month. In this plan, you will get a speed of 150 MBPS with unlimited data and 3 Mbps post FUP internet speed.
Drawbacks of Hathway broadband plans
Have you made your mind to buy Hathway broadband services? Now keep in mind these above-mentioned plans are only available in Hyderabad, and the prices for other areas are not that great as in Hyderabad.
Just check if the price is under 1000 the minimum speed should be 50 Mbps with a FUP of 500 GB.
For Example. These types of plans you will get usually are good as per price. You can select 100Mbps and 200 Mbps plans from these plans.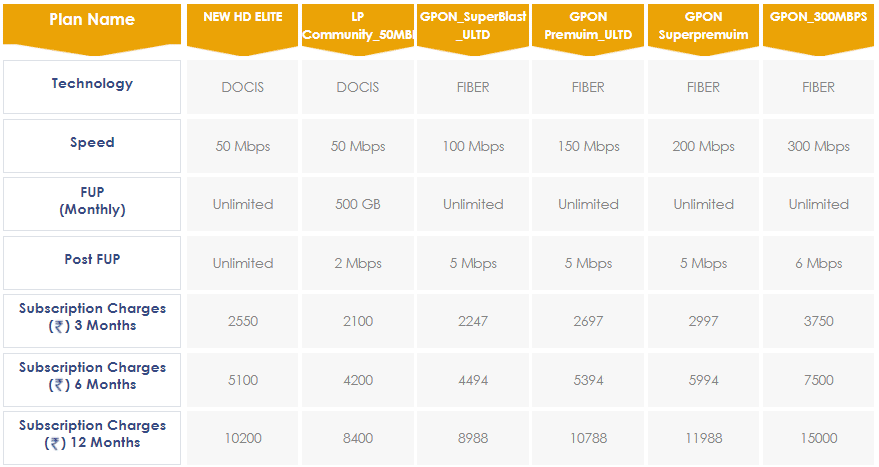 But there are plans like I have mentioned below. These are so expensive plans. In that case, you can check other broadband service providers from our list.
Also, Check if the plans are good in your area or not.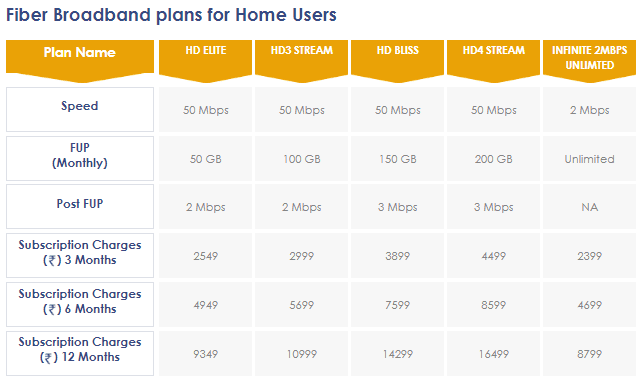 6. You Broadband
YOU broadband service is provided by Vodafone and they provide this service to only some parts of cities in India. They were also providing some great value if you want to acquire the plans.
You broadband plans

One thing I don't like about this service is that their cheapest plan starts from 899 per month that provides you a speed of around 30 Mbps. The speed at the budget is not that acceptable.
And the maximum speed of developing India plans is only 200 MBPS. This for max is very low as per the plan they offer. As you have some options like Jio and airtel for 1 Gbps speed.
For 100 Mbps speed, you need to pay 1809 rupees per month this is double as compared to Jio and Airtel plans.

Additional benefit
As per the additional benefit, you will get some additional data if you pay quarterly, half-yearly, and yearly. But the speed will remain the same.
This is an amazing broadband service available for only Punjab and Chandigarh users. They provide truly unlimited plans and you will get a speed of 40 Mbps for just Rs 499 per month.
| Plan | Price | Speed |
| --- | --- | --- |
| Truly unlimited 30 Mbps | Rs 471 (399 + GST) | 30 Mbps |
| Truly unlimited 40 Mbps | Rs 589 (499 + GST) | 40 Mbps |
| Truly unlimited 70 Mbps | Rs 689 (599 + GST) | 70 Mbps |
| Truly unlimited 100 Mbps | Rs 825 (699 + GST) | 100 Mbps |
| Truly unlimited 200 Mbps | Rs 1179 (999 + GST) | 200 Mbps |
| Truly unlimited 350 Mbps | Rs 1769 (1499 + GST) | 350 Mbps |
| Truly unlimited 400 Mbps | Rs 1887 (1599 + GST) | 400 Mbps |
They also offer you a speed of 1 Gbps in their plans which will cost around Rs 3999 per month. This plan is for youtube video streamers and daily game downloading.
But if you want a decent 100 Mbps speed they offer that for just Rs 699 per month which is amazing and too affordable.
Which broadband plan should you choose?
There are a lot more plans available. They might confuse you with which one is best for you. So let's check which plan will be good for you as per your requirements.
Students
If you're a student and you need an internet connection for your online classes and online courses, you can check the latest launched JioFiber plans.
The plans of JioFiber are starting from 399, and this plan is enough for attending all your classes as unlimited data is available at that price.
Likewise, you can check Airtel or BSNL broadband plans for the same 30 Mbps speed. Even the cost of Airtel and BSNl broadband will be less than 499 with unlimited data.
Work From Home
For working from home you need a minimum unlimited internet plan which is currently provided by almost every fiber broadband provider. However, a 30 Mbps plan will be enough for you, if you're doing simple office work.
For this requirement, Airtel and JioFiber both are offering a 30 Mbps plan at an affordable price. Alternatively, you can BSNL broadband and Hathway broadband for the same plan.
Moreover, if you're attending high-quality video calls or doing other works requiring more internet speed, you should check 100 Mbps or more plans for better comfort.
Content Streaming
Content Streaming requires more internet data as well as speed. Even content streaming requires a high-performing internet speed. So for that requirement, you can check the 200+ Mbps internet plan from BSNL broadband. It will cost you just Rs 999 for 200 Mbps with unlimited data.
Alternatively, you can check out JioFiber if you want some free OTT subscriptions at the same price. However, the internet speed will be 150+ Mbps.
If you want more internet speed then JioFiber is a better option because BSNL offers a maximum of 300 Mbps internet speed on its Fiber connection.
Gamer
If you are a gamer and want to download high-end games to your computer or mobile device the fast internet will be a better option for you.
For that reason, you can check Airtel broadband or JioFiber, both offer great internet speed with unlimited data.
Only JioFiber is offering 500 Mbps internet speed for 2500 rupees and unlimited data. However, you will get a 1 Gbps internet plan from Airtel for 3999 rupees.
Conclusion
If you want an amazingly fast and fordable option for the internet then Jio Fiber broadband will be best for you.
Jio is also offering additional benefits like OTT subscriptions and setup boxes. Even the base plan can stream 4K videos.
But if the Jio broadband services are not available in your area you can select Airtel broadband services.
Airtel is also providing some similar speed and prices with their plans.
So here best broadband providers in India.
Now I want to hear from you which of the plans are willing to apply for or I have missed your personal favorite.
Let us know by leaving a comment right.
Also, Read Best router under 2000
Which Internet plan is best for Home use?

JioFiber, Airtel, and BSNL are the best broadband providers for home use. These providers offer you low-cost as well as expensive internet plans. Also, you will get some additional discounts and Subscriptions for higher plans.
Who has the best internet service?

JioFiber and Airtel broadband are providing the best internet service with affordable plans. Even you can connect them in case you have faced any issue with your broadband or internet speed.
What is the best internet package?

It fully depends on your internet usage. So if you're using the internet for browsing and watching videos on Youtube and Netflix then a 50 Mbps plan will be enough for you. But if you want to download some high-end games then you required a minimum 150 Mbps plan.