MSI H510M-A Full Review (With Compatibilities)
MSI H510M-A Pro is a budget-friendly motherboard for Intel 10th and 11th generation processors.
Also, it is more than enough for basic usage with your i3 processors. So today you get an MSI H510A-Pro review with compatibility details.
So let's check it.
MSI H510M-A Pro Review (Personally Tested)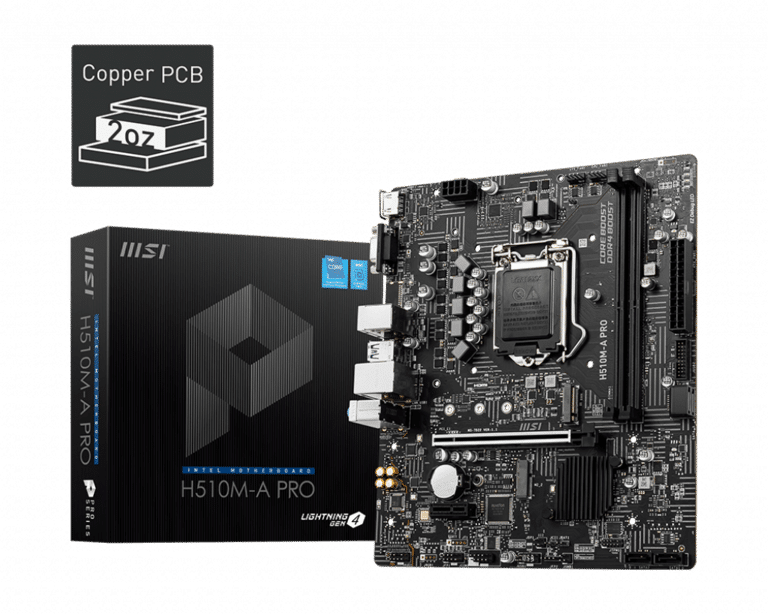 As a brand, MSI offers decent motherboards with decent build quality. On this motherboard, you will get a feeling of hard and solid build quality.
It has a LED light for checking the booting status of the motherboard. Also, you will get two USB 3.2 gen1 ports for better transfer speeds.
However, there will be only two memory slots for installing DDR4 memories. The Bios settings can be slightly difficult if you're using them for the first time.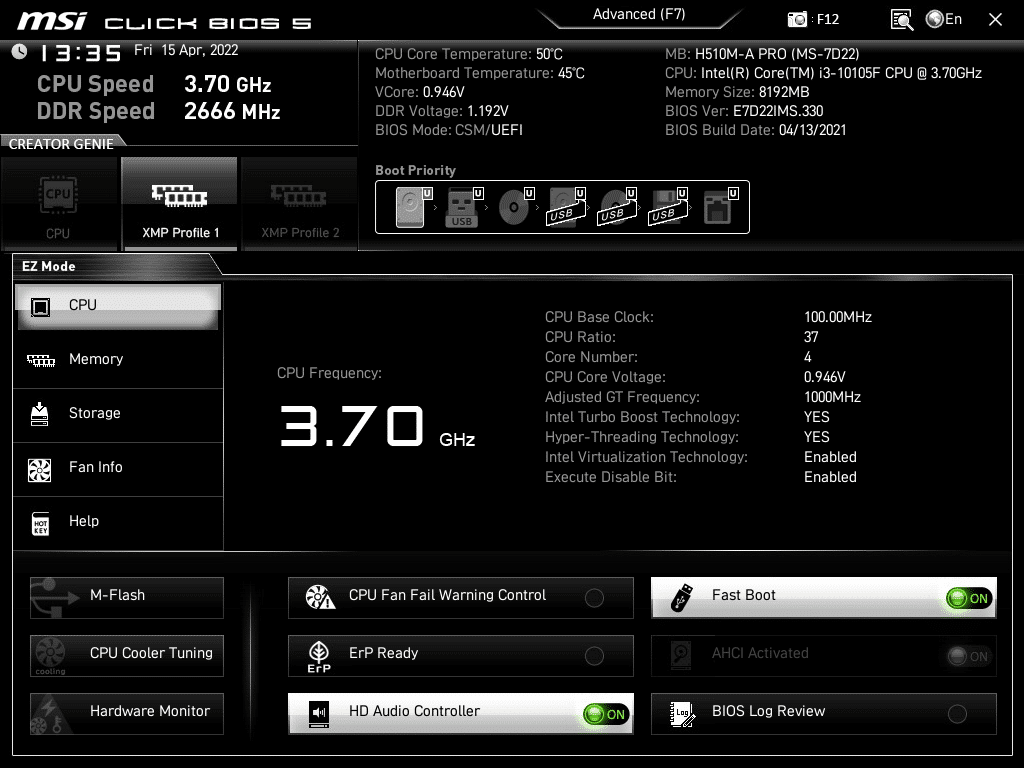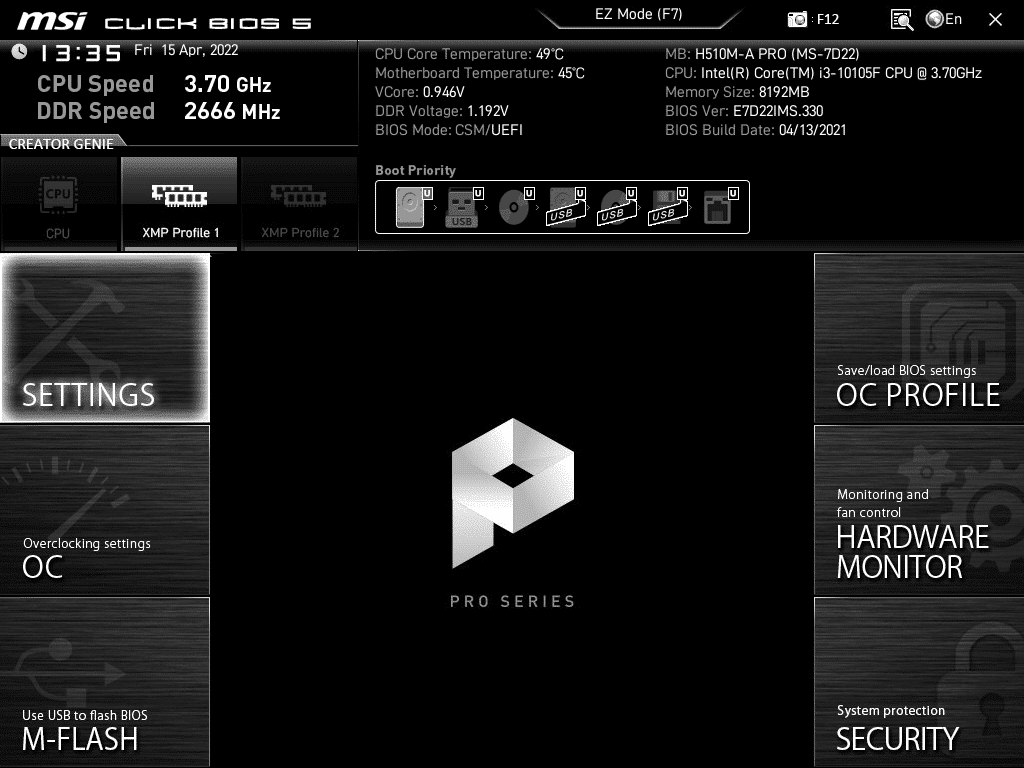 When I am installing windows on it, I have to delete my last windows 10 files first from the storage device then I can install New Windows 10.
Therefore, if you like to store too many files on your Drive C then make sure to do a backup for your data before using a new motherboard. It may require reinstalling the windows.
After all, this motherboard doesn't give any issues while using it frequently. But still, you need an SSD heatsink for better transfer speeds in a Nvme SSD.
Compatibility
For compatibility, this motherboard is fully compatible with all the 10th generation and 11th generation processors.
However, for using i5 or any other big CPU then you need B560 for VRMs.
I have tested this motherboard with the i3 10th generation. Because the 11th generation is not available. While gaming, there are no higher CPU temperatures issues.
It worked completely fine. However, while gaming on this motherboard for more than 3 to 4 hours the CPU temperature may increase.
Compatible Graphics cards
If you want to use a graphics card with this motherboard then you can install any PCIe 3.0 or PCIe 4.0 graphics card. It will support these graphics cards for sure.
However, installing a big graphics card will be a better option with big motherboards. Also, this motherboard gives you better performance on PCIe 4.0 graphics cards. PCIe 4.0 graphics card like RX 6500 Xt.
Rx 6500 XT will be much better on this motherboard as compared with H410 motherboards or PCIe 3.0 motherboards.
Price
Normally the price of this motherboard is very affordable. You will easily get it for a price of fewer than 6000 rupees.
However, during sales, you can get it for a price of 5500 rupees easily. 
You can easily use this motherboard in a gaming pc under 40000.
Specifications of this motherboard
This motherboard comes with very decent specifications when it comes to its pricing.
Specification
Manual
If you want to have the manual of this product then you can download it from the official website or check this manual which comes out of the box.
It gives you all the information required to build and connect the components required to your motherboard.
However, it may seem like it has some less information on the manual, but there's decent information available.
Bluetooth
On this model, you won't get any Bluetooth support. However, if you want Bluetooth then you can consider checking other motherboards as well like Msi B560.
LGA1200
This motherboard is based on the new LGA1200 socket that comes with the latest generation SSD, PCIe, and memory support.
You can use 3200 MHz memory on this socket easily. Lastly, on H410m motherboards you won't get this feature.
Also, it is a much better option when it comes to gaming and video editing with fast frequency memory sticks.
Gaming
On this motherboard, you can use any of the 10th and 11th generation processors. These processors give you good gaming performance depending upon the processor.
While playing games with a high-end processor like i5 11400f this motherboard can be used. But still, when you have played for more than 3 to 4 hours you may start seeing some frame drops due to high temperatures.
You can check motherboard under 10000 (150$) for better performance.
However, it can be only because of using VRMs without heatsinks. Further, you can install any graphics card on this motherboard for decent gaming performance.
Only problem!
You can't use a 3200 Mhz memory stick on this motherboard with a 10th-generation processor. It means it will work on 2666 MHz or the maximum capacity of the processor.
However, it will perform pretty well with Intel 11th generation processors.
H510m Vs H410m
Both the motherboards support Intel 10th and 11th generation processors. You won't get any problems with your processor.
But still, you will get some additional and important features on the H510m motherboard. Basically, H510m has fast memory frequency support, PCIe 4.0 slot, fast Nvme slot, and the latest socket.
These features make the H510m motherboard much better compared to the H410m motherboard. Also, you will get fast USB and more USB ports in an H510m motherboard as compared to an H410m motherboard.
Conclusion
Msi H510m-A Pro motherboard is a great and affordable option for gaming and video editing. Also, It can support every processor coming under the 10th and 11th generation Intel Series.
However, you will not get additional features like USB 3.2 gen 2, type C port, and LAN 2.5 Gbps. But for normal usage, this motherboard is more than enough.
So here is the Msi H510-A Pro review.
Now I want to know about your views on this motherboard. Let me know in the comments below.
Further, if you have any questions feel free to ask them.